Stir of Echoes
(1999)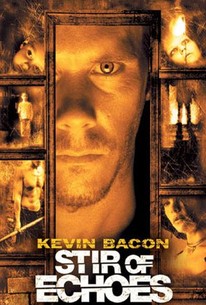 Movie Info
In this supernatural thriller, Tom Witzky (Kevin Bacon) is a fairly typical working-class guy living in Chicago with his wife Maggie (Kathryn Erbe) and his son Jake (Zachary David Cope). One night at a party, Tom gets into a lively discussion with his sister-in-law, Lisa (Illeana Douglas), who believes in psychic communication and the power of hypnosis. He challenges Lisa to hypnotize him, and she plants in him a post-hypnotic suggestion to be more open-minded. But the results aren't quite what Lisa or Tom expected; Tom now senses an air of terrible dread throughout his house and is convinced that evil lurks just around the corner. He also sees the spirit of a girl from the neighborhood who disappeared months ago -- and Jake sees the spirit as well. Stir of Echoes was based on a novel by Richard Matheson, whose work inspired such disparate films as Somewhere in Time and The Incredible Shrinking Man; it was written and directed by David Koepp, who wrote the screenplays for Jurassic Park and Mission: Impossible. ~ Mark Deming, Rovi
News & Interviews for Stir of Echoes
Critic Reviews for Stir of Echoes
Audience Reviews for Stir of Echoes
This supernatural thriller from David Koepp concerns Tom Witzky- a typical working class resident of Chicago just trying to live a decent life with his wife and young son. When it comes to the supernatural, Tom is a skeptic, but agrees to play along when some friends want to engage in what should be some harmless hypnotizing. Not long after this supposed bit of fun, Tom begins to feel the presence of evil, and see the spirit of a deceased girl who had disappeared earlier. This latter part sees him become determined to discover the truth about the girl, hopefully bringing her closure and allowing him to return to life the way he was used to. This is based on work by Richard Matheson,and, though I'm not familiar with the source material, I really dug this when looking at it on its own terms. There's a nice, spooky atmosphere, a good sense of dread and mystery, and some decent performances. Kevin Bacon is good in the lead, Kathryn Erbe is okay as his wife (and I will admit that I didn't mind her brief nude scene), and I liked Illeana Douglas as the woman who gets it all started. Give this one a look. It's a well made, moody, and entertaining thrill ride.
Chris Weber
Super Reviewer
½
Any time a ghost story film involves someone who sees dead people the benchmark Sixth Sense always seems to enter the conversation. In Stir of Echoes you have an earnest film that is more psychological than scary, yet kept afloat by a finely tuned script and some well grounded acting. The film does a very good job of setting the time and place - creating a mood of regular people living regular lives until something extraordinary occurs. The script fleshes out the characters, and not just of the main leads but of some of the supporting characters as well - to the point you think you KNOW these people. Kevin Bacon is in the lead, and he's just fine, but it is in the interplay between the two sisters, Bacon's wife and sis- in law, that are the glue that make this yeast rise. Katheryn Erbe as Bacon's wife and especially Illeana Douglas as sis-in-law bring humanity and reality to their rolls - totally believable as just regular folk. I'm not going to go too much into the ghost story as I don't want to give anything away; but of course, as I mentioned earlier, there will always be a comparison to Sixth Sense, which is a shame, for while holding some of the same elements, this wasn't meant to be a copycat. The cinematography works very well throughout the film, especially the more surreal moments. The "under hypnosis" scene is wonderfully thought out and quite a joy to behold. Really about the only thing holding this film back is the final act where things become just a bit too convenient and conventional, which is unfortunate as the build up and mystery are quite interesting. It's not that the climax is over the top hokum, but rather that it deals with human reactions that play false given the realism (an interesting term considering that this is a ghost story) that has gone on before. I will mention that the film has a coda, and while not the revelation of Sixth Sense, it is rather haunting in its own right. And finally, as the credits role there's a very cool song by Poe that nicely ties in the entire screenplay. A not perfect film, but surely a cut above the usual ghost story type genre.
paul sandberg
Super Reviewer
½
I had been wanting to watch Stir of Echoes for quite some time. Reading about on horror websites and praising the film, I knew I had to check out. Unfortunately I never did, until recently. This film blends psychological horror and supernatural horror into a film that definitely chills you. The cast deliver great performances, and the main lead who is Kevin Bacon is terrific in the role he plays. Stir of Echoes is a good psychological horror film that keeps you guessing till the every end. Stir of Echoes is a brilliant supernatural/psychological horror film, and Kevin Bacon delivers a good performance here. The film has some good chilling moments that really terrify you. Stir of Echoes had had the misfortune of being released after The Sixth Sense, and was dubbed a rip-off by the audience. I don't believe that is the case, Stir of Echoes may be the same type of horror film, but the film strays away enough from The Sixth Sense to be different, interesting and horrifying. Stir of Echoes is an underrated film and definitely should be seen by every horror fan. The cast is brilliant, the plot is engrossing and there are plenty of good, chilling moments to appeal to a selective horror audience. Stir of Echoes is a fine Supernatural horror film that definitely doesn't deserve the label "a Sixth Sense rip-off". This film is entertaining enough to keep you on the edge of your seat till the very end. A good, well plotted film.
Stir of Echoes Quotes
There are no approved quotes yet for this movie.