Still Breathing
(1998)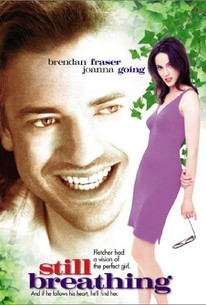 Movie Info
This romantic fantasy from writer, director, and producer James F. Robinson, stars Brendan Fraser as Fletcher McBracken, a starry-eyed San Antonio puppeteer who, like his father and grandfather before him, has a mystical vision of the woman he's fated to marry. Believing that she'll be found in "Formosa" (the one-time name of Taiwan), Fletcher books a flight. During a stopover in L.A., however, he learns of a trendy bar called Formosa and decides to check it out. Sure enough, Fletcher sees his dream girl, Rosalyn Willoughby (Joanna Going), a con artist on the lookout for a new mark, a millionaire from Texas. Assuming that Fletcher is the man she's supposed to bilk, Rosalyn accompanies him to San Antonio, where she meets his tuba-playing grandmother (Celeste Holm) and his eccentric friends, including the Tree Man (Lou Rawls). Charmed against her will by Fletcher, Rosalyn considers a real romance with the daffy artist, but each of them has some revelations to make before a real relationship can begin.
Critic Reviews for Still Breathing
Audience Reviews for Still Breathing
Leigh Ryan
Super Reviewer
A charming romantic comdey with a soft southern feel to it.
FanGirl Browncoat
Super Reviewer
Still Breathing Quotes
There are no approved quotes yet for this movie.