Stephen King's 'Desperation'
(2006)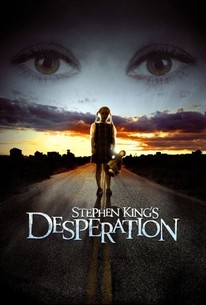 AUDIENCE SCORE
Critic Consensus: No consensus yet.
Stephen King's 'Desperation' Photos
Movie Info
Masters of Horror creator Mick Garris joins forces with literary horror icon Stephen King for this, the pair's sixth onscreen collaboration. In the wind-swept Nevada town of Desperation, a malevolent sheriff (Ron Perlman) delivers arrestees to a jail cell from which, by all accounts, no one has emerged alive. The streets are littered with the corpses of dead residents, and it appears that a sinister supernatural force has tightened its deadly grip on the once-thriving community. Arrested by the sinister lawman and subsequently thrown behind bars, a vacationing family, a traveling writer (Tom Skeritt), and a drifting hitchhiker (Steven Weber) narrowly thwart death by escaping their cold metal confines. Upon coming into contact with a mysterious prepubescent boy named David (Shane Haboucha) who seems to possesses an eerie insight into the ancient evil that haunts the town, the brave group boldly determines to solve the combat the evil that has infected this desolate landscape. Despite some notable help from the surviving town veteran (Charles Durning) and the dejected female half of a married couple (Annabeth Gish) who recently incurred the wrath of the nefarious sheriff, this unlikely band of weakened mortals seems no match for the powerful evil that now inhabits the town of Desperation.
Critic Reviews for Stephen King's 'Desperation'
All Critics (2) | Top Critics (1) | Fresh (1) | Rotten (1)
... what makes Desperation special-effective is writing, acting, direction, and the sense that these people know something.
The script shoves the religious overtones down our throat almost mercilessly...
Audience Reviews for Stephen King's 'Desperation'
½
Terrible in so many ways. It's sad when you think about how many Stephen King books have been butchered and turned into made for TV movies. This isn't all that great to begin with and pretty dull so I don't feel that offended, but it's still a failure and makes the book look like nothing more than something by Dean Koontz. Terrible acting and production value also add to this.
Conner Rainwater
Super Reviewer
Although this film starts off relatively well, grabbing viewers' interest and setting up the situation nicely, it does not take long before the film becomes nothing more than mediocre filler for a prime-time spot; what could have--should have--been a terrifying and freaky story soon becomes an eye-roller of the most predictable sort. However, this should not have been the case. Ron Perlman's acting is superb, and he does, at first, enable the casual viewer to get slightly uncomfortable. Tom Skerrit is also excellent, although to see him play something other than "the bad guy" is something certain viewers may have difficulty getting used to. "Desperation" is a film that is trying to be scary while simultaneously being conservative and mainstream and trying not to offend at the same time. Stephen King just does not belong on prime-time, not, that is, if the intention is to scare and disturb.
Lorenzo von Matterhorn
Super Reviewer
Fine horror made-in-TV adapted by Stephen King about the town becomes hell with the demon-possessed in the human beings. I'm very impressived for Tom Skerritt, Annabeth Gish and a young boy made their own great encourage to fight their own lives against evil.
Dean McKenna
Super Reviewer
Stephen King's 'Desperation' Quotes
There are no approved quotes yet for this movie.