Steamboat Bill Jr.
(1928)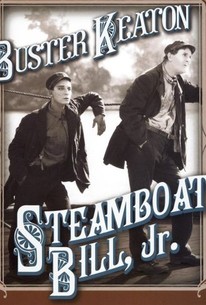 Steamboat Bill Jr. Photos
Movie Info
Not the best of Buster Keaton's silents, Steamboat Bill, Jr. nonetheless contains some of Keaton's best and most spectacular sight gags. Keaton plays Willie Canfield, the namby-pamby son of rough-and-tumble steamboat captain "Steamboat Bill" Canfield (Ernest Torrence). When he's not trying to make a man out of his boy, the captain is carrying on a feud with Tom Carter (Tom McGuire), the wealthy owner of a fancy new ferryboat. Carter has a pretty daughter, Mary King (Marion Byron), with whom Willie falls in love. The two younger folks try to patch up the feud, but this seems impossible once the captain is jailed for punching out Carter. Willie tries ineptly to bust his dad out of jail, only to wind up in the hospital while trying to escape the law. As Willie lies unconscious in bed, a huge cyclone hits town, knocking down tall buildings like kindling. Upon awakening, he does his best to remain standing as the winds buffet him about. He takes refuge in a tree, which is promptly uprooted and blown toward the waterfront. Here is where Willie proves his manhood -- and ends the feud between Steamboat Bill and Carter -- by rescuing practically everyone in the cast from a watery grave. Steamboat Bill, Jr. would be memorable if only for one eye-popping (and dangerously real) sight gag: as the cyclone rages, the facade of a three-story building collapses upon Keaton -- who is saved only because the upstairs window has been left open!
News & Interviews for Steamboat Bill Jr.
Critic Reviews for Steamboat Bill Jr.
Audience Reviews for Steamboat Bill Jr.
The son of a rundown riverboat captain returns to his dad after college, slick and citi-fied, a disappointment to his dad and the laughingstock of the town. Only the girl he knew in school thinks anything much of him, and she's the daughter of the town big-shot (Pop's nemesis) too. How to repair his reputation, get Pop's respect, the respect of Pop's enemy, and win the girl? And a big storm coming on? The storm proves the height of Keaton's talents as some of his most memorable sight gags happen during its rage, and Keaton enters film history with pride.
Kevin M. Williams
Super Reviewer
½
Keaton was an incomparable genius and this is made pretty evident in the film's exceptionally well-directed third act, when he tries everything to escape a storm and surprises us with his incredible audacity and endless disposition to put himself in life-threatening situations.
Carlos Magalhães
Super Reviewer
½
Buster Keaton is a master of two distinct features of the silent movie era: comedy via physical trauma and injury, and he is the master of stunts. The stunts you see in Buster Keaton films are all real, and were all executed by Keaton himself. You will be in awe throughout this film as you watch Keaton get pummeled, pulled through the streets, and hit with the framework of an entire house, all while keeping a completely stone face. The framework of the film isn't actually all that important, as his past films also demonstrate. The film starts with his father asking him home to help beat out his competitor in a steam liner business. While this shapes the film there are also plots that follow his father to jail, and then Bill Jr. as he saves his love interest from a tornado's vicious wind. The comedy of Keaton's work is still as timeless and humorous as it was in the twenties, and I highly recommend this film for silent film fanatics and comedy lovers alike.
Spencer S.
Super Reviewer
Steamboat Bill Jr. Quotes
There are no approved quotes yet for this movie.