Stay Tuned
(1992)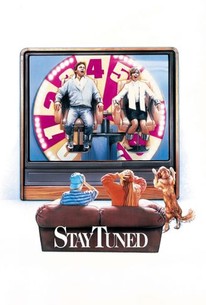 Movie Info
John Ritter and Pam Dawber star as Roy and Helen Knable, a suburban American couple having marital problems. Roy has become a couch potato, and a resentful Helen wants him to ditch the remote. When the demonic Spike (Jeffrey Jones) offers Roy a deal on the ultimate satellite TV system, Roy doesn't realize that he's just signed away his soul. Roy and Helen are sucked into their own television, where they endure a gauntlet of Hellish television shows such as "Northern Overexposure" and "I Love Lucifer." When their kids Darryl (David Tom) and Diane (Heather McComb) realize that their parents are on the twisted television, they set out to rescue them. Among other elements, Stay Tuned contains an original cartoon short by Looney Tunes legend Chuck Jones. The film was the debut of writing team Tom S. Parker and Jim Jennewein, who would stay in the wacky comedy genre with a whopping four major releases in 1994.
News & Interviews for Stay Tuned
Critic Reviews for Stay Tuned
Audience Reviews for Stay Tuned
RI.P John Ritter. It is a nice movie with some LOLs scenes. Also an interesting I dea what if you suddenly get stucked in TV.
½
"Stay Tuned" is a great one of a kind movie. Roy Knable (John Ritter) and Helen Knable (Pam Dawber) are captured inside a television set after they are mischievously tricked by a salesman named Spike (Jeffrey Jones). Roy and Helen have to find a way to survive 24 hours of the hellish Tv by completing several tasks and finding a television screen in whatever situation that they are currently in. Their journey inside the television will take them to many places and adventures such as Star Trek: The Next Generation, The French Revolution, a game show, and even a cartoon where they are both rats. "Stay Tuned" is a hilarious comedy movie. It's funny just about the whole time. John Ritter, Pam Dawber, and Jeffrey Jones all put on great performances. If you like innovative and hilarious comedy movies, I recommend getting "Stay Tuned." The movie never gets old no matter how many times you see it, so you might be staying tuned longer than you think. NOTE: That was my Amazon review from the year 2000. Always thought this was an awesome retro'ish and innovative movie for its time, and still love it.
Jason Owens
Super Reviewer
John Ritter and Pam Dawber take a trip through television Hell (Jeffrey Jones is the Devil) to rescue their children. It's hilarious and has several parodies of popular television programs. My favorite was the crash-test dummy testing.
Lafe Fredbjornson
Super Reviewer
Stay Tuned Quotes
There are no approved quotes yet for this movie.