Staunton Hill
(2009)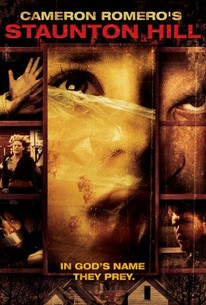 AUDIENCE SCORE
Critic Consensus: No consensus yet.
Movie Info
The son of celebrated horror filmmaker George A. Romero, director Cameron Romero takes the helm for this chilling story about a group of young hikers who incur the wrath of a deranged mountain family. When the hikers stumble across the dilapidated Staunton house, they assume it's been abandoned and decide to explore the property. But the Staunton's still call this place home, and they don't take kindly to trespassers.
Critic Reviews for Staunton Hill
All Critics (1) | Fresh (0) | Rotten (1)
The one saving grace for this low-budget film falls within the capable hands of the actors. Staunton Hill has some really impressive talent.
Audience Reviews for Staunton Hill
Incredible! The twist ending made this film great. But the only problem is that the antagonists are a little too weak. (a fat old lady, A disabled lady in a wheel chair, and a mentally retarded man.) But this film was still pretty good and had some good bloody scenes and scares to it.
Jacob Palacio
Super Reviewer
Set in 1969, four friends are hitchhiking their way to Washington D.C. for some sort of rally and accept a ride from a normal looking fellow named Quintin (Charlie Bodin) but then their truck breaks down. The group heads into the woods in search of help and come upon a creepy farm inhabited by a family that might be described as Leatherface's less attractive, retarded distant relatives, wheelchair-bound Geraldine, Bible-thumping Louise, and their lumbering man-child, Buddy and decide to stay for a spell. ~Spoiler Alert~ If you watch a lot of horror movies, even if you don't, you come to the realization that when unsuspecting young people accept a ride from a stranger, you know things will get bad and boy, they really do get bad here as our young friends fall victim to Buddy, the Leatherface-like killer that has neither the face of leather, nor any of the eccentric charm of the Sawyer family's favorite chainsaw-wielding son. Staunton Hill contains some particularly gory scenes some of which include "ewww"-worthy skinning/scalping scenes, a few scenes that feature some nice runny/dripping gore sprinkled in with a few nice squirts of blood erupting from arteries now and then. But what scared me more than all of the above was that these vibrant young adults can't fight their way away from an elderly woman in a wheelchair, an obese lumberiing woman who can't take 10 steps without running out of breath, and her half wit son. Every cliché you associate with the Crazy Redneck Slasher genre is here in this movie. The sexed-up hitchhikers, the broken down truck, the mentally challenged son, the meat hooks and the dirt-poor family who just might be having you for dinner.
When a group of hikers take off for a weekend they have no clue what is gonna be in store for them as they end up infront of a hold country farm run by the Staunton family for which the hill is named after now all these friends must fight to survive if they wanna get away from the family of Staunton Hill alive. as you can tell the plot is alittle thin on this movie directed by the son of famous horror director George Romero the film does have its moments but overall it isnt anything new when it comes to the backwoods crazy family films i would say its worth a quick look for anyone thats interested
Staunton Hill Quotes
There are no approved quotes yet for this movie.