State and Main
(2000)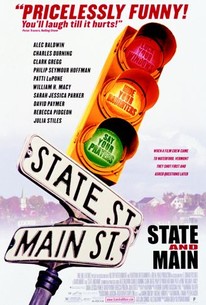 Movie Info
Walter Price is directing a movie that has gone over budget. Having been kicked out of his New Hampshire filming location, Price must quickly find a new, low budget location that can quickly pass as a 19th Century village. He soon comes across the quaint town of Waterford, Vermont. According to the brochure the town is equipped with a firehouse, a mill and a population eager for the glitter of Hollywood - Price thinks he has it made. However, he soon finds out that the mill, a crucial piece in the film, was destroyed several years ago in a fire. This is the first in a series of mishaps, including a star who prefers young girls and a suspicious car crash, that threaten to shut the film down.
Critic Reviews for State and Main
Audience Reviews for State and Main
WORTHLESS. I'm slowly coming around to the fact that Mamet's stilted patois might work, but definitely not when he writes and directs. The actors pause and repeat without motivation, as if they were just following stage directions. Rebecca Pidgeon is TERRIBLE. She breathes no life into the whimsical lady love. But hey, she's banging the director so why would she need to? I also get the impression that Mamet didn't even do much research for this film. His representation of small-town America is a mish-mash of idyllic stereotypes.
Alice Shen
Super Reviewer
This is a complete waste of time. A lame movie chalk full of many great actors. Did all these guys owe the director a favor??? I'm really not fond of movies about making a movie, especially when they're supposed to be "comedy" but with a some what serious tone. It was extremely tedious. I just didn't get it... avoid this crap fest!!
Walt Price: How are we coming with the dead horse scene? Marty Rossen: You can't actually kill the horse. Walt Price: Aw, fuck me! Writer/Director David Mamet uses his style of dialog in a new fashion, comedy. This is a very funny movie with a great ensemble cast. The movie revolves around a movie crew who was recently kicked out of a small town during production for some sketchy circumstances, and have now just arrived in a small Vermont town, where they will now upset their ways. Amidst the movie crew there is Philip Seymour Hoffman as the writer, William H Macy and David Paymer as director and producer, and Alec Baldwin and Sarah Jessica Parker as actors. Among them, Hoffman is great as a writer unfamiliar with the ways of Hollywood. At one point he is forced to simply create a new title and settings for the film, because the movie which is called "The Old Mill," cannot film at the old mill, because it burned down. Meanwhile, Macy and Paymer have to struggle with more funding through product placement involving somehow having "bazoomer.com" mentioned in an 18th century period film. Town Man: What happened to his finger? Ann Black: It was burned, then it was really hurt. What makes everything work so well is the Mamet style dialog, which I enjoy. Even though it is still laden with profanity, the movie glides along so smoothly with the little talking rhythms between the actors. It is a very funny movie, with quirky characters, and fun stuff involving Hollywood vs. Small town society. Ann Black: And here's some hydrogen peroxide. Joseph Turner White: I don't drink. Ann Black: It's for your finger.
Aaron Neuwirth
Super Reviewer
State and Main Quotes
There are no approved quotes yet for this movie.