Starship Troopers: Traitor Of Mars
(2017)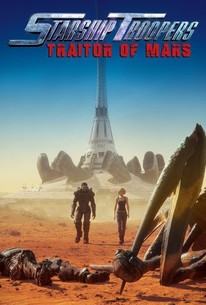 AUDIENCE SCORE
Critic Consensus: No consensus yet.
Starship Troopers: Traitor Of Mars Videos
Starship Troopers: Traitor Of Mars Photos
Movie Info
Fathom Events and Sony Pictures are bringing a premiere event, Starship Troopers: Traitor or Mars, to select movie theatres for a one-night event on August 21. C'mon You Apes, You Wanna Live Forever?! I have only one rule. Everybody fights, no one quits. The bugs have breached Mars and the Federation's Fleet is too far to help. It's up to us to save the planet. On the bounce, Troopers! The only Good Bug is a Dead Bug! Oorah! Casper Van Dien and Dina Meyer return as voices alongside Comedian & Starship Troopers Super Fan DeRay Davis in an all-new military adventure. The event includes an introduction by Casper Van Dien and writer Ed Neumeier, plus behind-the-scenes footage, and filmmakers' interviews.
Cast
Critic Reviews for Starship Troopers: Traitor Of Mars
Audience Reviews for Starship Troopers: Traitor Of Mars
½
I've accepted that another Starship Troopers movie is off the table and I'll admit, I won't support a reboot unless they can continue within the established universe. The first film will always be close to my heart and I cannot wait for it to come back to cinemas in some 4k form. This film starts skakey but soon opens up in the world already created, the final 40 minutes is where the beats pickup. I wish they would do some comics and novels to keep this series alive, this is just one series living on thanks to fandom. This film brings back a lot of the strength of the series, mainly Rico. this sequel lacks consistency and the voice acting just lacks depth, you feel like you're watching a Tv of the week animation. The film is very weak with the story, it just never comes together and we are left with another sequel that doesn't service the original. 03-04-2018.
Brendan O'Connor
Super Reviewer
½
The best Starship Troopers sequel we've ever gotten. Despite being animation, it also has the best CGI of the franchise as well. More importantly though, it was fun, which Starship Troopers hasn't been since the original, which was 20 years before the release of Traitor of Mars.
Starship Troopers: Traitor Of Mars Quotes
There are no approved quotes yet for this movie.