Starship Troopers 2: Hero of the Federation
(2004)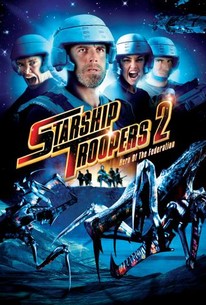 Starship Troopers 2: Hero of the Federation Photos
Movie Info
Humanity's war against the bugs continues in this sequel to Paul Verhoeven's sci-fi soap opera epic, Starship Troopers. This time, when a squad of troopers is stranded on a bug-infested planet, their only hope for survival lies in an abandoned outpost, where things take a turn for the worse. A lone survivor by the name of Captain Dax (Richard Burgi) awaits them there, locked away for killing his crazed commanding officer. When a group of strangers arrives at the base, the squad is faced with a new threat from their alien enemy that will pit every surviving human against each other. With an army of bugs surrounding the compound and mysterious internal forces plotting against the group, it's up to Dax and Pvt. Lei Sahara (Colleen Porch) to try and hold out before the rescue team arrives. Effects maestro Phil Tippett (Star Wars, Jurassic Park) makes his directing debut in this made-for-cable movie that features a script by the series' original scribe, Edward Neumeier.
News & Interviews for Starship Troopers 2: Hero of the Federation
Critic Reviews for Starship Troopers 2: Hero of the Federation
Audience Reviews for Starship Troopers 2: Hero of the Federation
½
More cheese and yet somehow less filling. Still a good C grade action adventure yarn.
Kevin M. Williams
Super Reviewer
Starship Troopers 2 is an awful sequel to a great film. Though the first Starship Troopers wasn't a masterpiece, the film was still a memorable, action packed sci-fi horror flick with plenty of effective action and gore. This direct to DVD title really doesn't hold up. This is a poorly written film with an awful cast. Director Phil Tippett clearly can't direct an effective sci-fi horror adventure. Starship Troopers is a missed opportunity to create a good film to a fun, entertaining film. This film is a slap in the face to Verhoeven's film. This has no substance, relies on poor effects that rally look cheap. Like I said before, the cast is horrible here. The films budget doesn't help this film one bit. I hated the fact that the film was treated as a direct to DVD film, and because of it, no effort was made to try and create something watchable or entertaining. But Starship Troopers suffers the same fate as so many other direct to DVD sequels, it's a poorly constructed film with no redeeming qualities. This film had the potential in being a great flick, but it was not to be. Starship Troopers 2 is an awful film that never should have been made. The film should have been much better than this. Unfortunately, the filmmakers delivered a film that is horrible. If you've enjoyed the first Starship Troopers, then skip this film.
Someone decided to take SST and try to turn it into "Alien/Aliens3", a SciFi thriller/suspense/horror. Not exactly a bad idea, but the fact that the story almost feels parallel to an already existing film calls for some pretty remarkable execution to make itself credible. Unfortunately, it doesn't meet those requirements either. (maybe due to the fact that this was straight-to-DVD) Atmospheric tension? I wish. Compelling characters? Not a chance. Good special effects? Hardly.
Drake Tsui
Super Reviewer
Starship Troopers 2: Hero of the Federation Quotes
There are no approved quotes yet for this movie.