Starman
(1984)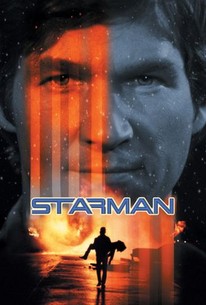 TOMATOMETER
AUDIENCE SCORE
Critic Consensus: What initially begins as sci-fi transforms into a surprisingly sweet, offbeat drama, courtesy of John Carpenter's careful direction.
Movie Info
Having crashed to Earth, an extraterrestrial space traveller must assume a human identity lest he be captured by the authorities. The alien (Jeff Bridges) chooses the likeness of the recently deceased husband of Jenny Hayden (Karen Allen). At first dumbstruck, Jenny becomes both hostile toward and frightened of her guest. He gradually wins her confidence, learning a few vital English-language phrases so that he can explain his presence. The "starman" has come to Earth with a message of peace, in response to the similar message sent out on Voyager One. He asks for Jenny's help in transporting him to the Nevada desert, where his fellow aliens are to pick him up and take him to his home planet. Soon he and Jenny form a united front against a mean-spirited National Security Council agent (Richard Jaeckel), who intends to seize the starman and turn him over for scientific scrutiny (and possible extermination). While en route to Nevada, Jenny grows closer to the gentle-natured Starman, eventually making love with him. By the time he is poised to leave, she is carrying his child, leaving the field wide open for a sequel--which was never produced, though a weekly TV version surfaced in 1986.
News & Interviews for Starman
Critic Reviews for Starman
Audience Reviews for Starman
This is one of John Carpenter's lesser known films, possibly because it's more of a love story than a monster mash. Jeff Bridges plays an alien, who becomes a reincarnated version of Karen Allen's dead husband as a way to manipulate her to help him after he crash lands on Earth. The rest of the film concerns the alien's voyage to a meeting place with his people, with Allen's assistance, with the US government on his trail. The film is very unoriginal in its message: man is harming itself with violence, aliens are peaceful, and the military is violent and wants to hunt down the alien. Besides the impossibly intense action, this film is special for its portrayal of the relationship between Allen and the alien. It's basically heartbreaking, because Allen is a widow who has to see her dead husband and knows immediately that it's not him, but also wants that second chance with him. In that sphere it makes more sense for the alien to be peaceful as he gives her a beautiful gift for her troubles. Very light but not always devoid of action, this may be Carpenter's sweetest film yet.
Spencer S.
Super Reviewer
½
John Carpenter's sci-fi looking effort is actually a road trip romance (ala Capra's It Happened One Night) about a guy from somewhere in space getting a close hand look at backroads America. Jeff Bridges does well as the newborn earthling/alien larnin' about our downhome, simple but good ways o' livin', but the film actually belongs to Karen Allen who carries the emotional weight of the piece and acts as our stand-in on a trip from Madison, Wisconsin to Winslow, Arizona. As a point of interest Kevin Spacey would play a similar type alien being, birdlike movements et al, with Jeff Bridges playing the psychologist trying to get at him years later in 2001's K-Pax. Both are guilty pleasures of mine since their initial releases.
Kevin M. Williams
Super Reviewer
½
What may be John Carpenter's tamest movie of his early works is a rather calm, humorous and touching tale of an alien crash landing on earth and making its way to the pick up spot. On the way it does not only take on a dead man's shape but also his widow on a road trip through half the US. Of course, the evil military slash government is on their heels. That may sound somewhat generic today, but back then it was one of the first films like that. So while some parts feel a bit dated, the great chemistry between Jeff Bridges and Karen Allen still makes this a very enjoyable ride with much more funny scenes than action packed ones. The message of mankind being pretty messed up when compared to peaceful alien species may be a bit simplistic too, but doesn't fail to mention the good of the single individual and the beauties of life on earth. Likable and very entertaining.
Starman Quotes
There are no approved quotes yet for this movie.