Stardust Memories
(1980)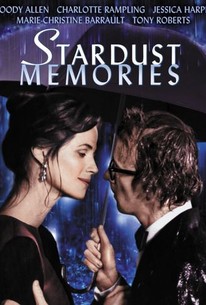 Movie Info
Loosely based on Fellini's 8 1/2, this Woody Allen film focuses on filmmaker Sandy Bates, who is currently suffering from a major creative block. The film follows Sandy as he attends a weekend retrospective of his films, where he is continually harassed by fans, friends, lovers, and studio executives.
News & Interviews for Stardust Memories
Critic Reviews for Stardust Memories
Audience Reviews for Stardust Memories
½
Unlike most, I enjoyed this work of Woody Allen's, much more so than many of his "arty" films, and specifically because it doesn't seem as if it's trying to do any of that pretentious fawning for approval. As usual, Allen is chasing women - for better or for worse, his Muses, only placebo Muses - in between bouts of dealing with unthinking, selfish fans and the "get to the bottom line" money people, but it all has the endgame in sight of achieving satisfaction of his one true love: film. He even got a coupla laughs out of me, and it's been awhile since he's done that. Good stuff.
Kevin M. Williams
Super Reviewer
Sandy Bates: You can't control life. It doesn't wind up perfectly. Only-only art you can control. Art and masturbation. Two areas in which I am an absolute expert.  Stardust Memories isn't a movie that jumps to mind when you think about Woody Allen. It is nowhere near his best and actually may be my least favorite film of his. I found it unlikable in a lost every way. This is odd because it is Allen paying his respects to Fellini and one of my favorite movies, 8 1/2. But just because you use Fellini type images and elements of plot from 8 1/2, doesn't mean you are making a worthwhile movie. This is just a bore of a film and probably Allen's most annoying. Sandy Bates is a talented director. He makes funny movies and when he decides to change direction and start making more serious pictures, he gets pressure from studio heads to stick to the comedy. While he stays at the Stardust Hotel, while attending a festival of his films, he has memories of the past and his loves. Along the way, we see him spend a great majority of his time fighting fans off who want to go him movie ideas and who want to shower him with praise for being such an intelligent filmmaker. This whole experience got tedious after the first twenty minutes and became the most disappointing of any Woody Allen film I have ever seen. It isn't a movie I would ever recommend, but obviously people do like it, so I might just be crazy. I'll stick to Hannah and Her Sisters and Match Point; you can have this garbage.
Melvin White
Super Reviewer
Dear Mr. Allen, Your film is famous for it's quote "I don't want to make funny movies anymore. I look around and all I see is human suffering." And you're right, the world is filled with suffering, and that's exactly why you should make comedies. If I wanted to see human suffering I would turn on the news, read the newspaper, or walk down the street of any major metropolitan city. No one wants to pay $12 dollars to be reminded that the world sucks. Next time you feel like popping a Bergman film into your DVD player, please re-watch Sullivan's Travels instead. Your devoted fan, Ken
Ken Stachnik
Super Reviewer
Stardust Memories Quotes
There are no approved quotes yet for this movie.