Star Wars: Holiday Special
(1978)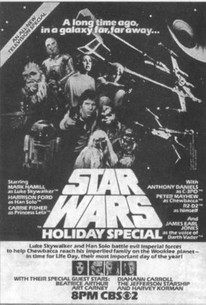 Movie Info
Chewie and Han Solo are trying to get home to Chewie's family, so they can celebrate Lifeday.
News & Interviews for Star Wars: Holiday Special
Critic Reviews for Star Wars: Holiday Special
Audience Reviews for Star Wars: Holiday Special
Having nothing to do in essence with the Star Wars franchise, this special ran on CBS in 1978, a year after A New Hope first hit theaters. What ensued in this special was flagrant idiocy on a national level, merging with the variety show ascetic that was popular at the time. Network executives and hack writers put this together for a two hour special during Christmas, featuring much of the original cast from the first film, and introducing a Wookie family, having Chewbacca as the patriarch. The family is about a fourth of the entire special and don't speak audible English or any other distinguishable language, instead resorting to grunts and moans. It's disgusting and rude to say the least, and makes a mockery of the serious nature of the Star Wars films, and the ardent support of the legion of fans. Today we as fans, do not view this as part of that universe, though it undoubtedly is. George Lucas had no say in the special, and has been reported as saying that "If I had the time and a sledgehammer, I would track down every copy of that show and smash it." It was only shown on television once, and never re-aired or put out on videocassette. The fans instead copied it onto tape, and almost anyone can get a copy through the underground movement within different science fiction and fantasy conventions. The tapes have the original commercials, fuzzy picture quality, and cut in and out at times. Still, this atrocious creation has to be seen by the masses, because it features even more ugliness than can be imagined, including songs from Diane Carroll and Jefferson Starship, as well as a Boba Fett cartoon from before he became the boss bounty hunter in Return of the Jedi. There are cameos from Harrison Ford, Carrie Fisher, and Mark Hamill as well as C3PO and R2D2 popping up in scenes. The ending, which is also equally grotesque and unwatchable, ends with something called "Life Day," a celebration that I can't address or explain, but is apparently what holds interest throughout. Just a magnificently idiotic waste of time and effort, but still a blight worth watching and buying in the darkness of a con.
Spencer S.
Super Reviewer
Don't hate it, just enjoy it, sure it's not an epic adventure or anything, but it's something enjoyable to watch on Christmas break when you've nothing to do! I really liked it, there are a lot of nice songs, especially the Jefferson Starship one, and an awesome cartoon, and there's an exciting adventure with Han and Chewie trying to get home for "Light Day". Who cares if there's no such thing as "Light Day"? Just have fun with this movie.
For years I've heard rumors of this terrifyingly bad shit stain. It's worse. Much worse. The biggest problem is how confusing it all is. What was the point? Did anybody have any ideas when making this. We are treated to about 20 minutes of a wookie family, growling at each other with no subtitles. It seems as though they are trying to set up a plot. Later we watch, as Chewbacca's wife watches a cooking show. A cooking show hosted by a man in drag, in black-face. There's singing, dancing, and a cartoon. The cartoon is at least enjoyable enough, even if Han Solo does look like some retarded hillbilly. The original actors show up and seem o immediately regret it. Curiousness leads to hilarity, hilarity leads to annoyance, annoyance...leads to suffering. Your suffering.
Luke Baldock
Super Reviewer
Star Wars: Holiday Special Quotes
There are no approved quotes yet for this movie.