Star Trek Generations
(1994)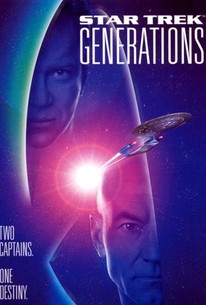 TOMATOMETER
AUDIENCE SCORE
Critic Consensus: Generations stands as a mediocre changing of the guard for crews of the Enterprise, with a dull plot that sometimes seems like an expanded episode of the television series.
Star Trek Generations Videos
Star Trek Generations Photos
Movie Info
Kirk meets Picard and then meets his Maker in this installment of the Star Trek saga that features the casts from both the original Star Trek and The Next Generation series. The only important character missing from the story is Mr. Spock. The story begins as the original crew members of the "Enterprise" prepare to embark on the newest version of their ship as honored guests. Though the ship is not completely finished and her new crew is inexperienced, the voyage begins as planned. Unfortunately while cruising, they answer the distress calls of two cargo ships enmeshed in a sinuous ribbon of energy. The ship meets with disaster and Kirk ends up disappearing. Forty years later, the new "Enterprise" answers a similar distress call. This time they are successful and rescue Dr. Soran, the sole survivor. Soran is a mad scientist obsessed with the electrical space ribbon, The Nexus, which he believes induces the greatest joy. Soran will do anything to re-enter the Nexus. When he involves the "Enterprise" in his scheme, it is up to Picard to venture into the Nexus, find Kirk, and save his ship.
News & Interviews for Star Trek Generations
Critic Reviews for Star Trek Generations
Audience Reviews for Star Trek Generations
The first Next Generation film is unfortunately a big mess that uses a confusing plot device to bid a ridiculous adieu to Captain Kirk in order to give space to Captain Picard's crew in the Star Trek movies - and sadly not even its unnecessary subplot makes it worth seeing.
Carlos Magalhães
Super Reviewer
½
A new film, a new generation and the beginning of a newer franchise. I don't like these shorter one word film titles though. The film kicks off with the handing over of the [i]Enterprise[/i] from Kirk to a new younger crew. You half expected the next generation crew to be at the hand over but not so. Shatner looks uncomfortable in this sequence (in my opinion), it does seem as if he would be quite happy to carry on being the immortal space legend Kirk. It seems like a painful break for him and the original cast members that join him...Doohan and Koenig. The same could be said for myself as a viewer, I've never been a Trekkie but I have always enjoyed the original cast. This new film starts off well and in familiar territory with the beloved Kirk Scotty and Chekov under pressure, but it quickly falls flat as we hesitantly hand over to the new duller greyer crew. The problem with the new generation is quite simply the new crew, Jesus they are bland! so very boring, the only character I think has some interest is Worf. A Klingon male that has joined Starfleet and worked up the ranks, could almost be seen as a turncoat to his Klingon people, interesting. Other characters in the film are all rather meek and uninteresting. McDowell's character isn't really very threatening and fails to crank up the tension when on screen, hardly a villain to remember. I must also admit I always hated Goldberg in Star Trek, she just seemed to big a name to have involved plus she really doesn't fit this type of genre if you ask me. Other personal issues I have with this film and the new crew is the character of Data. A tremendously annoying character that looks like a makeup mistake, terrible effects when we do see his innards and whose humorous moments are rather forced and cringeworthy. His whole development during this film are along the same lines as Kryten from British sci-fi comedy 'Red Dwarf'...yet not as good I might add. Of course my opinions are personal preference within the Star Trek universe. Anyway the plot is pretty dull frankly, an odd choice of adventure, at least up until the Nexus takes Picard whilst part of the [i]Enterprise[/i] crashes (film highlight borrowed from 'Star Trek III' perhaps?). Things do get a little more interesting then especially as we get Kirk back. Still many questions arise during these sequences, what exactly is the Nexus? an afterlife of some kind? where does it come from? how does it work? etc...How come Picard can see and talk to Guinan? and how come Kirk had only just arrived there despite him entering the Nexus 78 years prior? Lastly, how come they can both simply decide to leave the Nexus to where ever they wish? Maybe I missed these points I dunno but luckily it doesn't detract from the fun of having Kirk and Picard double up in a pretty cool franchise generation cross over. Alas they still decide to kill off Kirk which I think is a mistake because he and his classic crew got a bloody good send off in 'Star Trek VI'. Seeing as he gets killed here you tend to think the character would deserve yet another royal send off with a big military funeral attended by all previous characters in a special episode or another film. Seems an anti-climax to just leave it at this after all that has gone before. As for the effects well of course they look sharper and bolder but most of the shots were CGI created with only a few models used. For me this is a shame and adds to the shiny plastic fake look of the film just like its TV counterpart, models always look better. The whole film did feel very much like an outstretched TV episode, more so than previous film offerings if you ask me. Like I said the plot is thin and could easily have been a simple episode (seeing as the effects aren't exactly much different). There really was no big silver screen stand out moment, the space battle against the Klingon sisters was quite good but that's all you get. Overall I think this was a disappointing start for the next generation of Star Trek films. I admit it was always gonna be a hard sell to me as I never followed Star Trek after the original crew and never liked the next gen cast/crew. Despite that its still a very mediocre entry with a lot of dialog which could almost be construed as time wasting of sorts. Seeing Kirk and Picard together was damn good I have to say. Seeing the Shat back in action in the finale despite weight and age really puts a smile on your face, Trek fan or not. Lets not forget it was a three way battle including McDowell, that's a pretty awesome trio of legends duking it out right there folks. Just a shame the rest of the film didn't live up to the action and excitement in the finale. It took the inclusion of Shatner to bring that excitement I might add, that tells you something.
Phil Hubbs
Super Reviewer
½
With an all new cast of actors, the Star Trek franchise take a new turn and reinvents the series by introducing a new crew. With Generations we get a highly entertaining and thrilling story, mixed with some worthwhile performances. I really enjoyed the film, thought it was a fine mix of thrills, a bit of action and everything else that make for an effective Star Trek film. The film is a very good entry, one that brings new ideas to the table, and I really enjoyed the direction that the film took with its ideas and concept. This is an accomplished Science Fiction film, and ranks among the finest in the series. With the cast at hand, and good script, Generations is an engaging picture that is worth seeing if you enjoy the genre. An aspect that really stood out for me was the performance of Malcolm McDowell, which made the film that much better. He really delivered one of the film's strongest performances, and it more than makes up for the film's shortcomings. With that being said, Generations is a well crafted picture, one that at times shows part where it could have been improved upon, but considering some of the performances we get on-screen, it's easy to forget the film's weaker points. Overall, this is a pleasant Science Fiction film, one that definitely stands out among other genre films. If you've enjoyed the previous film, you're sure to enjoy this one, and it's a refreshing due to a new cast from the Star Trek: The Next Generations being the new cast in this film. This film has flaws, but it's nonetheless an enjoyable affair that is an engaging film from start to finish.
Star Trek Generations Quotes
There are no approved quotes yet for this movie.