The Stalking Moon
(1968)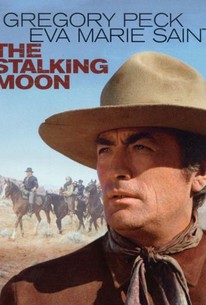 AUDIENCE SCORE
Critic Consensus: No consensus yet.
Movie Info
Adapted from a novel by Theodore V. Olsen, The Stalking Moon opens in the Arizona of the Old West, as the U.S. calvary is in the process of relocating Native Americans to reservations. One of the calvary men is Sam Varner (Gregory Peck), an aging scout who is ready to retire to his New Mexico home after this mission. Varner is called upon to sneak into a small Apache camp in order to disarm the guards before the rest of his troupe rides in to round up the whole tribe. After the round-up, a white woman is discovered among the Americans. Her name is Sarah Carver (Eva Marie Saint), and she was captured ten years ago by a mysterious and vicious warrior named Salvaje (Nathaniel Narcsisco), who is not among those captured in the round-up. Held against her will, she now has a nine-year-old son by Salvaje. Although her English is very rusty from disuse, she lets Varner know that she and her son would like to be taken away from the tribe. He agrees to transport her to his home, and they set out together for New Mexico, having to overcome obstacles such as a sandstorm to get there. Along the way, they seem to sense that someone is following them, and after they arrive at Varner's cabin, they find themselves set upon by the vengeful Salvaje. Enlisting the aid of a half-breed scout Robert Forster that he raised from childhood, Varner tries to fend off Salvaje, who seems to be toying with them before moving in for the final kill.
Critic Reviews for The Stalking Moon
Audience Reviews for The Stalking Moon
It seemed to start off good at the beginning but then got boring as it went on.I'm glad I didn't have high hopes for this 1.1 star just for the scenery
Brody Manson
Super Reviewer
The Stalking Moon Quotes
There are no approved quotes yet for this movie.