Spirited Away
(2002)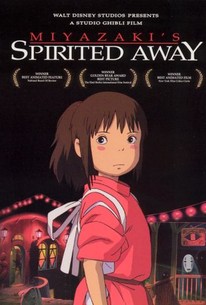 TOMATOMETER
AUDIENCE SCORE
Critic Consensus: Spirited Away is a dazzling, enchanting, and gorgeously drawn fairy tale that will leave viewers a little more curious and fascinated by the world around them.
Movie Info
Master animation director Hayao Miyazaki follows up on his record-breaking 1997 opus Princess Mononoke with this surreal Alice in Wonderland-like tale about a lost little girl. The film opens with ten-year-old Chihiro riding along during a family outing as her father races through remote country roads. When they come upon a blocked tunnel, her parents decide to have a look around -- even though Chihiro finds the place very creepy. When they pass through the tunnel, they discover an abandoned amusement park. As Chihiro's bad vibes continue, her parents discover an empty eatery that smells of fresh food. After her mother and father help themselves to some tasty purloined morsels, they turn into giant pigs. Chihiro understandably freaks out and flees. She learns that this very weird place, where all sorts of bizarre gods and monsters reside, is a holiday resort for the supernatural after their exhausting tour of duty in the human world. Soon after befriending a boy named Haku, Chihiro learns the rules of the land: one, she must work , as laziness of any kind is not tolerated; and two, she must take on the new moniker of Sen. If she forgets her real name, Haku tells her, then she will never be permitted to leave. ~ Jonathan Crow, Rovi
News & Interviews for Spirited Away
Critic Reviews for Spirited Away
Audience Reviews for Spirited Away
Hayao Miyazaki's take on the 'Alice in Wonderland' concept is another bizarre but charmingly enchanting classic that went on to become one of the highest-grossing Japanese films of all time. Stunningly vibrant animation, a mysterious spirit world that bursts with imagination and wonder, memorable characters, subtle dark undertones (examination of human greed and the anxiety of moving into a new home), and a great score by Joe Hisaishi. A delightful and sincere masterpiece for people of all ages.
Christopher Heim
Super Reviewer
"Spirited Away" follows Chihiro as she moves to a new town with her family. Upon discovering this new world after losing track of direction, he parents become pigs (literally) and she must accept this world she has been born into, along with the name "Sin" that has been given to her. Discovering answers she needs to get out and how people and things are much more than they seem to be, her character transforms more than any child character I have had the pleasure of viewing in a long time. "Spirited Away" may not be one of the best Miyazaki films I have seen, but it is certainly a great one. With a whole lot of heart, twists, and lessons, this is one film you surely shouldn't miss. I have to fault the film for taking a little too much time as her character of "Sin" as she works to being released from this world. Everything else was developed wonderfully, I just feel this film could have shaved off ten to fifteen minutes. In the end, this is a great film with an really good story and beautiful animation.
Breath-taking, magical animation and a story with a big heart; and though I'm still not sure I understood the premise, exactly, this was a beautiful film to watch, brilliantly drawn and animated.
Daniel Perry
Super Reviewer
Spirited Away Quotes
There are no approved quotes yet for this movie.