The Spirit of '76
(1990)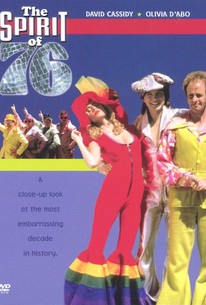 Movie Info
Making great fun of the '70s, this lively sci-fi comedy centers on a trio of time travellers who go into the past in hopes of retrieving the Constitution to celebrate America's 300th birthday. Unfortunately, the travelers end up in 1976 not 1776. The trouble is, they don't realize it.
Critic Reviews for The Spirit of '76
Audience Reviews for The Spirit of '76
As if you couldn't already tell from the DVD cover, "The Spirit of '76" is a silly blast of nostalgic kitsch. The year is 2176. A trio of American scientists from a gray, cheerless future aim to travel back in time to 1776, in order to find the forgotten Constitution and rediscover what once made their country wonderful. But their rickety capsule has a technical glitch, and they are sent back to 1976 instead. They soon meet up with two vapid teen brothers (played by Redd Kross' Steve and Jeff McDonald), and the plot doesn't go much further than this. Instead, we're just bombarded with a parade of campy '70s references, none of which are especially arcane or knowing. Disco, mood rings, Pop Rocks, feathered hair, smiley faces, the Bicentennial...you can guess the rest. The casting may be more entertaining than the script. Former teen idols David Cassidy and Leif Garrett have prominent roles, and there's something oddly epic about seeing them share a scene near the end. Other vintage icons playing along with the joke include Rob Reiner (his brother Lucas wrote and directed the film), Carl Reiner, Barbara Bain ("Mission Impossible," "Space: 1999"), Tommy Chong and Iron Eyes Cody, while then-trendy figures like Moon Zappa, Julie Brown and members of DEVO also turn up in cameos.
Eric Broome
Super Reviewer
Hilarious movie! Definitely a movie from childhood. Whoa! I just commented on this previously. Oh well.
The Spirit of '76 Quotes
There are no approved quotes yet for this movie.