Speedy
(1928)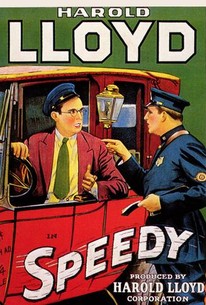 Movie Info
This was comedian Harold Lloyd's last silent film, and one of his most charming. Lloyd's character here is called Harold "Speedy" Swift, an upbeat young man whose fatal attraction for baseball always causes him to lose his jobs. After his latest firing, he impulsively spends a day at Coney Island with his sweetheart, Jane Dillon (Ann Christy). Ann's grandfather, Pop Dillon (Bert Woodruff), meanwhile, has a dilemma -- he runs the last horse-drawn trolley in New York City, and the railway magnates desperately want his route. Since Pop won't sell it to them, they plan to get it by underhanded means. Pop must make his rounds at least once every 24 hours, so the magnates hire thugs to stop him. Speedy hears about this plan and, being gainfully unemployed, takes over the route to protect the old man. But the magnates then steal the trolley, and the climax of the film involves Speedy's dash to find the trolley and get it back to its route before the 24 hours are up. He makes it just in time and then forces the magnates to buy the route for a cool 100,000 dollars. This picture was shot on location in a Manhattan that now looks almost quaint for all its concrete and steel. Baseball legend Babe Ruth had a cameo role, playing himself as a very harassed fare when Speedy is working as a cabbie. Their wild ride ends at the old Yankee Stadium. Other historically interesting sites include Coney Island's Luna Park, and Columbus Circle and Wall Street as they were in 1928. In the film's climax, the trolley has a spectacular crash at the Brooklyn Bridge -- this accident was not planned, but was left in the film anyhow. At the time of this picture's release, Lloyd was a top box-office draw, a bigger moneymaker than Charlie Chaplin (whose releases during the '20s was infrequent) and Buster Keaton (whose quirky comedy wouldn't be fully appreciated for several decades). While Lloyd made some fairly amusing sound films, he never again matched the quality of his silent work.
News & Interviews for Speedy
Critic Reviews for Speedy
Audience Reviews for Speedy
At the end of the silent era, we have this gem to bring it to a close. Speedy uses the genre to its fullest impact by giving us plenty of interesting visuals and an entertaining plot line.
John Ballantine
Super Reviewer
½
Harold Lloyd's final silent feature offers a glimpse at New York City dating back to the 1920s. Lloyd plays an aimless young man who goes from job to job (some misfortune always strikes, causing his unemployment), while working towards the opportunity to marry his girlfriend. His girlfriend's granddad is the owner of the city's last horse-drawn trolley car, although recently there have been attempts to buy him out. The movie has a fairly standard plot for a silent film: the hero saving the girl and her family's farm/business from the evil banker, but Lloyd brings his own unique perspective to it. Highlights include a trip to Coney Island's "Luna Park" (closed now since 1944), a trolley car chase through old Manhattan, and of course the appearance of baseball legend Babe Ruth. A movie visit to Coney island wouldn't be this enchanting again until "The Little Fugitive". "The Witching Waves" were particularly interesting (how'd they get the floor to do that?), and I enjoyed Lloyd's interation with the stray dog that follows him about Luna Park. Cute and fun.
Devon Bott
Super Reviewer
Another 86 minutes of wild antics with Harold Lloyd. There is a loose story about Harold's -- called Harold "Speedy" Swift here -- fiancee's grandfather's milk delivery wagon and a plot by an unscrupulous railroad tycoon to put him out of business. But none of that really matters. Any Harold Lloyd film's main appeal is the action, and this one is no exception. There are sight gags, car chases, a street fight, comic misunderstandings during a trip to Coney Island, and a hilarious bit in which Babe Ruth -- yep, THAT Babe Ruth -- is riding in cabdriver/baseball fanatic Speedy's cab. Speedy is so excited that the Babe is in his cab that he turns around in his seat to gawk and talk, oblivious in his excitement to the chaos his inattention and erratic driving is causing on the streets of New York City. Much of the outdoor action was filmed on location, and there is some wonderful footage of NYC as it looked in the 1920s. As always, everything works out happily in the end for Harold and company. This is a fun movie with some heart suitable for the whole family....except -- am I the only one who's noticed that Speedy flips himself the bird in a funhouse mirror at Coney Island? I had to run the film back 4 times to review the scene and to make sure I saw what I thought I saw!
Speedy Quotes
There are no approved quotes yet for this movie.