Species
(1995)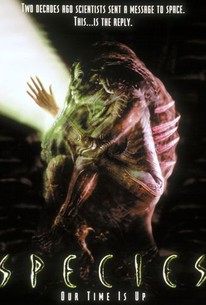 TOMATOMETER
AUDIENCE SCORE
Critic Consensus: Species shows flashes of the potential to blend exploitation and sci-fi horror in ingenious ways, but is ultimately mainly interested in flashing star Natasha Henstridge's skin.
Movie Info
An alien comes to Earth to breed so that her kind can overtake the planet in this action-filled sci-fi film. She came in response to radio signals sent into space by scientists. The alien was engineered as a walking breeder in the shape of a beautiful blonde.
Critic Reviews for Species
Audience Reviews for Species
Ben Kingsley's science experiment with alien DNA (explained in a dazzle of two sentences) escapes and terrorizes the male population of Los Angeles with copulation (Oh my!) in this not-too-serious blond creature feature with some A-list talent seriously wasted. C-grade entertainment.
Kevin M. Williams
Super Reviewer
[img]http://images.rottentomatoes.com/images/user/icons/icon14.gif[/img] Species is easily one of the weirdest films i've layed my eyes on in a while. It has a great premise, a good cast and a big budget but the problem is it's never as exciting as it deservedly should be. Which is quite surprising considering it's intriguing and courageous story. Firstly, apart from a handful of shocks the film has no atmosphere whatsoever and suffers from wooden performances and a baggy final 20 minutes that leads up to a very unsuspenseful climax. However as stupid and flawed as it is the mash up of B movie creature conventions and erotic thriller overtones make for an interesting story with a sexy alien. It reminded me of Vincenzo Natali's recent picture, Splice, a film that I think is incredible, has depth, and quite possibly was inspired by the film. And that's good enough for me. It's a badly shot piece of trash, but it's so aware of itself, and sometimes funny, but always entertaining. You can't exactly say much about the film because it's reasonably unremarkable, but it's worth watching once if you want to pass an hour and 40 minutes. For what it's worth it deserves a marginal recommendation.
Directors Cat
Super Reviewer
½
Species is a terrific Sci Fi horror film.with a good cast of actors. After an experiment at a top secret facility goes haywire, The facilities latest experiment escapes. The experiment is a woman implanted with Alien DNA and she must find a mate to create an alien race. Scientists hunt her down at any cost. Species plays out like a B movie with a big budget. Special effects are crafted by famed Swiss artist H.R Geiger who designed the creatures in Ridley Scott's Alien. The film is helmed by Roger Donaldson who went to film other terrific films such as Thirteen Days and The World's Fastest Indian. Despite the throwback of the B movie feel that Species offers, this is still a very enjoyable film despite the flaws. The effects are awesome and theres plenty of gore in the film to appeal to the gore fans. The film does leave room for improvement, but Species is a fairly entertaining ride that has more highs than lows. This is a film that is fairly underrated. Sure the film is not Alien, but it manages to be a pretty effective Sci Fi Horror film. If you can get past the cliches, which work well, this is a treat to watch and enjoy. Sci Fi Horror fans should be pleased at this interesting film because it uses plenty of old tricks that though some may find old, are quite inventive in this effects laden film. The diehard Horror buff will surely enjoy this film, I did and I recommend it to anyone who enjoys a different type of Alien monster film.
Species Quotes
There are no approved quotes yet for this movie.