Special Effects
(1984)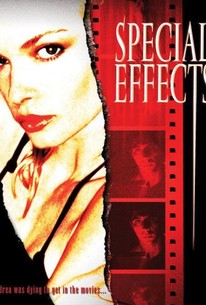 Movie Info
Unlike other films by this title, the subject matter of Larry Cohen's murder mystery is a dastardly film director whose last movie plummeted at the box office in spite of flashy special effects. He wants to climb back up from this failure, so when he murders an aspiring actress in a Soho apartment, in a twist of his already twisted mind, he throws himself into a scheme to film a re-creation of the murder. As the movie plot, which is the director's plot, becomes more and more convoluted, he gets the detective assigned to the case to take part in his scheme and even gets the dead actress' husband to act out her murder in front of the camera. Laced with black humor and unexpected turns in the action, this director keeps the movie going, thanks to real director Larry Cohen who actually keeps the movie going.
Critic Reviews for Special Effects
Audience Reviews for Special Effects
Have you ever noticed that there is always one guy who ruins the topless photo shoot for everyone else? In this case, it is Keefe(Brad Rijn) who tries dragging his wife Andrea(Zoe Tamerlis) back home to Oklahoma from New York. She will have none of it, escaping out the bathroom window before seeking out disgraced film director Chris Neville(Eric Bogosian). However, she realizes too late what he intends his next project to be... Wearing its low budget proudly on its sleeve(so much so, that some of the dialogue seemed to be fading out at times), "Special Effects" is a movie that wants to have its exploitation and complain about it, too. That it works as well as it does is down to Eric Bogosian's natural intensity. In this case, he puts it to good use playing a director who cannot tell reality from make-believe anymore. With a backdrop of a gloriously sleazy and tawdry 1980's New York City and a loft that is alternately tacky and awesome, this movie could also be seen as a warning against the glamour of filmmaking.
Special Effects Quotes
There are no approved quotes yet for this movie.