Special Correspondents
(2016)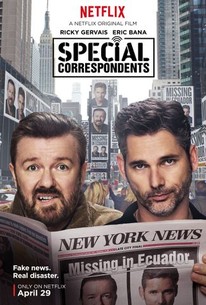 TOMATOMETER
AUDIENCE SCORE
Critic Consensus: Feeble writing and two-dimensional characters make Special Correspondents an unsuccessful, embarrassing endeavor for creator Ricky Gervais.
Special Correspondents Videos
Special Correspondents Photos
Movie Info
A struggling radio journalist and his sidekick fake a wartime kidnapping, sparking a manhunt while they secretly hide out in New York City.
Critic Reviews for Special Correspondents
Audience Reviews for Special Correspondents
I remember saying, when the Ridiculous Six came out, that Netflix partnering with people to create original movies was a really cool idea, but that I was disappointed that they had chosen Adam Sandler to partner up with instead of someone like Will Ferrell and Adam McKay, who would at least try to put out a quality product. They might not have ended up putting out something that might be considered good, but I don't doubt that they would've tried their hardest to put out something that they felt proud of. You know what you're gonna get with Adam Sandler. The guy has practically admitted that he's lazy and his films are really just paid vacations. This is something we've known for years. The Ridiculous Six was exactly what one would come to expect from Sandler. So when I found out that Ricky Gervais had signed a deal to write and direct a movie for Netflix, I thought to myself, oh good, at least Gervais might make a good movie. The end result, however, was anything but. I'm not saying the film is terrible or anything, I think it'd take far more effort from Gervais to make a shit movie than it would for someone like a Adam Sandler, who clearly doesn't give a shit. The film is certainly well-intentioned and it does offer some satirical content on how easily these people are able to get away with this farce that they're in Ecuador during the middle of a volatile war. It also plays with how easily people buy into what media sources tell them, down to a fictional militia leader being blamed for Finch and Frank being taken hostage. I also liked the idea, though this one is a little more controversial, with how the families of those affected, in this case Finch's wife, takes advantage of the hostage situation to further her own career and monetarily gain from it. So the film definitely has some interesting ideas and themes that it wants to get across, but I just didn't find the film to be that funny. It's not that the film is poorly-written, though a satirical comedy without any real consistent laughs, that might be considered as poor writing. And I can't exactly entirely disagree with that, but I thought the film was a really easy watch. I don't think you can have that if your film is really poorly-written, but that's just my opinion, I could be entirely wrong. I think that part of me felt that the film should've been shorter. I just feel they spent much too long time in New York lying about everything they've said, being in Ecuador, being in the middle of a war zone, being hostages, etc. I think they spend too much time on that, but there's also a part of me that felt that also should've been expanded upon, if that makes sense. It just feels like there's a six-episode mini-series here, underneath it all. But there's also the fact that it doesn't exactly make a smooth transition to a full-length film, in that there doesn't seem to be enough material to justify it being a full-length film. It's really the strangest thing. The cast is solid. Gervais is always good, so no complaints there, Eric Bana isn't always the best actor, but I think he fits the role fairly well. Vera Farmiga is always a joy. America Ferrera and Raul Castillo are good as, probably, the two most memorable characters in the film. So the problems has nothing to do with the casting and everything to do with the inconsistent writing. And all that comes down to Ricky Gervais. I don't know why, but the writing just wasn't sharp or biting. It has some ideas, but it doesn't have the consistency to keep up with those ideas. It's not a terrible movie and I found it relatively easy to watch, but I just can't really recommend it. Even if you have Netflix or love Ricky Gervais.
Jesse Ortega
Super Reviewer
I didn't hate it but I have to admit considering the talent involved it was a tad disappointing. Bana is a comedic actor but is restricted by the material and Ricky is muted and lacks the edge he commonly brings to a role. Far from the worst film around but definitely not the best, the general lack of pace didn't help either. I'm a fan of both Bana and Ricky so I quite enjoyed their chemistry.
Brendan O'Connor
Super Reviewer
Special Correspondents Quotes
There are no approved quotes yet for this movie.