Spanking the Monkey
(1994)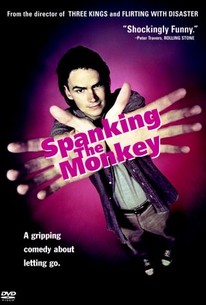 Spanking the Monkey Photos
Movie Info
David O. Russell wrote this black comedy about a teenage boy's Oedipal relationship with his mother.
Critic Reviews for Spanking the Monkey
Audience Reviews for Spanking the Monkey
½
"A gripping comedy about letting go." David O. Russell burst onto the scene with this challenging and controversial film about an introverted college student and the incestuous disaster of a summer that follows his freshman year.
REVIEW
There is something hypnotic about Spanking The Monkey. You watch Jeremy Davies as his summer goes straight downhill and he is stuck taking care of his manic depressive mother, and you are intrigued. That is if you have a good attention span and a tolerance for dark humor. Because this is ink-black humor at its smirkiest. So you are either in for an enjoyably bizarre ride of the demented fashion or you are about to be majorly turned off. In many ways, this is like The Graduate, except this indie devil wants to blow away the dated shock of having an affair with a married, older woman with an even more shocking and rather disturbing taboo. David O. Russell, who has a bizarre and neurotic look at family life (see his Flirting With Disaster, an even better film), gives us an interesting character study of a tormented college student who is virtually nailed to the ground by his dysfunctional parents. I can see why some people may hate this movie from its difficult subject matter, but I feel like I was sucked in this guy's life and that's what I love about movies that have the power to do that. Yet, as the film grew darker and sadder, with a bittersweet ending that felt like a high note of hope compared to the rest of the film, I was relieved when the ending credits came and I could return from the trance and go back to my decidedly happier lifestyle.
Lorenzo von Matterhorn
Super Reviewer
Spanking The Monkey is probably one of the best Dark Comedies I have ever seen. Jeremy Davies has always been a good actor and has never put out a bad performance, even in Twister when he had four or five scenes, he is just a quirky and very talented actor. Great movie, really great acting, and a very interesting plot make Spanking The Monkey essential viewing for lovers of Independent Cinema.
Jason Reneau
Super Reviewer
Okay, I'm resolving to stop reading the synopsis before I watch a 'cutting edge' film. I postponed viewing this incredible 'little' movie because I have an aversion to incest. Not to mention that the title put me off a trite as well. Let's be real, I knew this wasn't going to be a zoology piece on the discipline of arboreal primates. The point is, if you can get past your own neorotic hangups and lingering emotional baggage left over from your dysfunctional childhood, you'll see that Spanking the Monkey is rather good. *NOTE: Just to save you some time, as soon as you see Jeremy Davies you're going to wonder where the heck you've seen him before... Saving Private Ryan.
Randy Tippy
Super Reviewer
Spanking the Monkey Quotes
There are no approved quotes yet for this movie.