Sound City
(2013)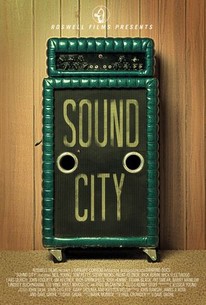 TOMATOMETER
AUDIENCE SCORE
Critic Consensus: Smart, affectionate, and unabashedly sincere, Sound City pairs a great soundtrack with a well-argued ode to one of rock 'n' roll's most fondly remembered bygone eras.
Movie Info
Deep in the San Fernando Valley, amidst rows of dilapidated warehouses, was rock n' roll's best kept secret: Sound City. America's greatest unsung recording studio housed a one-of-a-kind console, and as its legend grew, seminal bands and artists such as Fleetwood Mac, Neil Young, Rick Springfield, Tom Petty, Metallica and Nirvana all came out to put magic to tape. Directed by Dave Grohl (Nirvana, Foo Fighters) and featuring interviews and performances from the iconic musicians who recorded some of rock's greatest albums at the studio, Sound City doesn't just tell the story of this real-life rock 'n' roll shrine, it celebrates the human element of music as Grohl gathers some of rock's biggest artists to collaborate on a new album. Using Sound City's legendary analog console, together these artists continue to create musical miracles in a digital world. (c) Variance
News & Interviews for Sound City
Critic Reviews for Sound City
Audience Reviews for Sound City
½
An intimate look at one of the most storied recording studios ever in Los Angeles, CA, a place of magic and luck that appeared to be nothing more than a dump, but instead possessed an indescribable environment full of special people that ultimately stood the test of time despite many instances where it could have been sold. Director Dave Grohl, one of the best musicians of our time, shows a lot of skills behind the camera, making this little studio seem ultimately timeless despite the inescapable shifts in success it experienced given the changes in the music industry. Mostly, this documentary is a treat to watch because of the cameos involved, from Tom Petty, to Rick Springfield, to even Sir Paul McCartney, all with fond memories of when they produced albums there.
Dan Schultz
Super Reviewer
Dave Grohl's directorial debut is a phenomenal documentary about the legendary Sound City Studios, a studio where some of the most legendary records in music history have recorded. Grohl interviews many musicians who have used the studio and they give their insight as to why Sound City was such an integral part in their creative process to create something memorable on tape. Sound City Studios was a studio that used analog recording equipment instead of digital to record its artists. No matter the genre of music you enjoy, this is a must see documentary that is truly impressive. The stories told by the musicians are wonderful. Grohl goes deep into the subject matter and give his film the human connection of making music with a band, and not simply a computer. Analog tape is an obsolete technology in terms of recording, and the film gives us an explanation as to why recording with tape is the best way to record music. Grohl gets his point across very well by stating that with tape, you can hear every little mistake and imperfection, which makes the music more real, while with digital you can easily fix it, tweak and perfect it, but at the same time cheapening the feel of the art form. With that being said, I have a profound respect for this dying form of recording and the stories are simply stunning. Dave Grohl interviews everyone from Mick Fleetwood to Stevie Nicks, Neil Young, and Lars Ulrich to producers Rick Rubin, Butch Vig and Ross Robinson. I've seen plenty of music documentaries, all of them were great, but Sound City is very different. This is a film not just about a studio, but the human element of creating real, pure music from the heart, something that most popular artists of today have forgotten all about. Everything nowadays is all about auto tuned vocals, electronic, computerized beats and not about playing an actual instrument. Sound City is a film that will delight music fans as well as those interested in this classic recording method.
There are few absolutes in this world. One is that the carcinogenic concoction that theaters drizzle over their popcorn is more addictive than anything Marlboro could produce. Another is that if a senior citizen is hit in the face with a shovel, chances are it will ruin their weekend. Finally, the last absolute is that most people respect Nirvana Drummer/ Foo Fighters front man Dave Grohl. Throughout his musical career he has churned out admirable hit after hit all while remaining convivial, self-deprecating, & perhaps most importantly, a total badass. The subject of a recent documentary that was very popular at last year's South by Southwest, Grohl has now assembled a team of veteran filmmakers and turned the camera on the studio that helped launch his art into the ears of millions of fans the world over. This directorial turn begs the question, is Grohl as enchanting behind the camera as he is in front of it? Sadly, I would have to answer in the negative as Grohl's love letter to Sound City Studio is a nice polished piece of entertainment, but a bit scatterbrained. Weaving together Grohl's personal journey with that of the studio itself, along with the myriad stars who all made iconic pieces of music within its walls, is already quite an undertaking. Yet, even with three main courses filling every inch of the plate, he attempts to squeeze in music's changing of the guard; the tumultuous change from analog to digital & the artistic devastation wrought in its wake. On top of this, he even throws in footage of his dream jam sessions with the likes of McCartney, Rick Springfield, and a slew of other musical prodigies. All of this information is crammed into the running time of a standard-length documentary while the material could have filled a Shoah-length documentary. Not to mention it would have been a hell of a lot less depressing. In an effort to juggle so much, Grohl inevitably drops the ball a couple of times. For instance, in telling the story of the switch to digital, a brief moment regarding Trent Reznor and his embrace of the digital format is awkwardly packed in; not doing that story any justice while simultaneously taking away from the film as a whole. Overall, Sound City is chock full of energy and just being a fly on the wall watching these titans of the music industry create and refine music together makes the film worth a watch or two. Yet, for his sophomore effort, it might behoove Grohl to streamline his focus and allow the material to breathe a bit more.
Sound City Quotes
There are no approved quotes yet for this movie.