Sophie's Choice
(1982)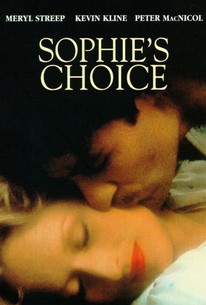 Movie Info
In this film, set in 1947, aspiring author Stingo heads to New York. There he strikes up a friendship with research chemist Nathan Landau and Polish refugee Sophie Zawistowska. There is something unsettling about the relationship; Nathan has violent mood swings, while Sophie seems to be harboring a horrible secret.
News & Interviews for Sophie's Choice
Critic Reviews for Sophie's Choice
Audience Reviews for Sophie's Choice
½
Though this film is ultimately just an exercise in melodrama, the character of Sophie Zawistowska is very complex and interesting to watch, and by no means hampered by the brilliant performance from Meryl Streep. Essentially this film is pegged as a story about the Holocaust, but it's much more than that. Though there are undoubted horrors seen onscreen, and this film deals with true facts about the inhuman exploits of the Nazis, the story is more about guilt. Everyone hides something horrible in their past, Sophie included, and that shame and repugnance shape whatever decisions we make in the future. Sophie has a very dire choice to make, and because of it she feels she doesn't deserve happiness in the future. Atrocities loom in her periphery, but she's trying to be friendly with Stingo (MacNichol) and romantic with Nathan (Kline), cheery and forgotten to her past, untied to her family. Using the Holocaust as a backdrop helps permeate the grandiosity of her guilt, and shows the terrors inflicted upon her, though any number of other historical atrocities would have served the same major purpose of influencing Sophie's guilt. It's not until the very last minutes of the film that we realize the true gravity of that guilt, and we understand the outcome for Sophie, Stingo, and Nathan. While it may not have aged especially well, there's still such vibrancy, and the illuminating performance from Streep will hold weight even decades in the future.
Spencer S.
Super Reviewer
½
In Brooklyn in the years following WWll and a young Southern writer falls for a refugee of Auschwitz who is herself embroiled with a charismatic American Jew, only all is not rosy. Everyone is carrying baggage and the film opines that the choices we make (especially with relationships) are directly related to the baggage we carry. Its a mouthful to relay in the space of a film but the actors make it easier, lead by Streep who is at her most luminous.
Kevin M. Williams
Super Reviewer
Hmm, let's see here: this hasn't aged well, but it's still a decent film filled with excellent performances. Hoenstly, that's really the highlight here. Essentially this film is just high melodrama with a Holocaust stroy thrown in as a way to make a love triangle seem more interesting. That is, of course, a simplification, but not too far from the truth. I did like this film though, even if I don't see it as beign a real cinematic masterpiece or anything. Maybe had the film focused more on the Holocaust stuff and less on the post war stuff, or maybe had they taken the titular moment and made it the real centerpiece or something I could find this film to be more brilliant, or at least as brilliant as the performances. That's all anyone seems ot talk about here are the performances, well, mostly Streep's. It's true, this is her greatest achievement as an actress, and this is a beuatiful turn she gives as a Holocaust survivor with a really dark past. The others are good too though. I used to think that peter MacNicol was only good at playing the creep in Ghostbusters II; I'm happy to report that he does a really good job here as well. Kevin Kline gives a remarkable performance as a really unbalanced man with whom you can never predict what he will say or do next. They both get overshadowed by Streep, but that's kinda understandable. I liked the music, and the look was decent, but the stroy just didn't quite have me like maybe it should have. I'm no ogre. The scene where the film gets it's title is a very heartbreaking and emotional scene-I just wish the rest of the film could have been as focused and stirring. Maybe they could have trimmed some of the running time in the process. All in all, a decent film, but nothing extremely remarkable, although that goes for the film as a whole, and not the individual parts that make it up. You should see this if only for the acting. One may think that such a statement is overrated, but I disagree. The work here (mostly Streep's) will forever be one of the greatest examples of successful acting ever committed to film.
Chris Weber
Super Reviewer
Sophie's Choice Quotes
There are no approved quotes yet for this movie.