The Song of Bernadette
(1943)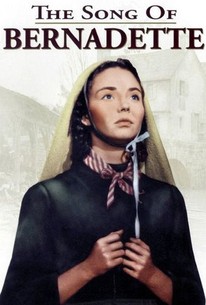 The Song of Bernadette Photos
Movie Info
The Song of Bernadette is a reverent recounting of the life of St. Bernadette of Lourdes. As a teen-aged peasant girl growing up in the tiny French village of Lourdes in the 19th century, Bernadette (Jennifer Jones) experiences a vision of the Virgin Mary in a nearby grotto. At least, she believes that she did. The religious and political "experts" of the region cannot accept the word of a silly little girl, and do their best to get her to renounce her claims. Bernadette's vision becomes a political hot potato for many years, with the authorities alternately permitting and denying the true believers' access to the grotto. No matter what the higher-ups may think of Bernadette, there is little denying that the springs of Lourdes hold some sort of recuperative powers for the sick and lame. Eventually, Bernadette dies, never faltering in her conviction that she saw the Blessed Virgin; years later, she is canonized as a saint, and the Grotto of Lourdes remains standing as a permanent shrine. The 20th Century-Fox people knew that The Song of Bernadette would whip up controversy from both the religious and the agnostic. The company took some of the "curse" off the project with a now-famous opening title: "To those who believe in God, no explanation is necessary. To those who do not believe in God, no explanation is possible." Jennifer Jones's performance in The Song of Bernadette won her the Best Actress Oscar. ~ Hal Erickson, Rovi
Critic Reviews for The Song of Bernadette
Audience Reviews for The Song of Bernadette
½
Jennifer Jones' portrayal of a young woman encountering the Virgin Mary at Lourdes is meant to be inspiring but nowadays gives a performance that makes you think she is looking for the Great Pumpkinhead. Ultimately believers are going to believe and skeptics will be skeptics. This film won't change any of that.
John Ballantine
Super Reviewer
½
I loved this movie, it's one of my favourite movies about saints. Jones gives a fantastic performance, and you get to see Vincent Price in an early small role. It's such a great story, and it's true!
Jeremy Smith
Super Reviewer
The Song of Bernadette Quotes
There are no approved quotes yet for this movie.