Sonatine
(1993)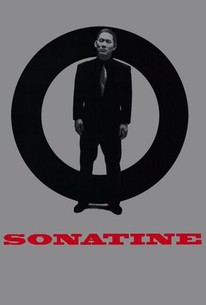 Movie Info
Takeshi Kitano wrote, directed and stars in this 1993 Japanese film, an urban thriller that centers on world-weary gangster Murakawa (Kitano). Instructed by his boss to settle a dispute in Okinawa, Murakawa soon finds himself caught in the middle of a yakuza gang war. Ritualistic gunplay, however, gives way to a seaside interlude of gangsters at the beach -- as a sudden switch transforms the approach from splatter action to arthouse film. Praised by Sight and Sound ("exquisite gangster film") and selected by Quentin Tarantino for distribution through his Rolling Thunder company.
Critic Reviews for Sonatine
Audience Reviews for Sonatine
Shortly after completing his fourth feature length directorial outing 'Sonatine' auteur Takeshi "Beat" Kitano had a self proclaimed "unconscious suicide attempt" when he drunkenly crashed his motorcycle in August 1994. After the accident it became common speculation that Kitano's depression was the catalyst for the brooding nihilistic nature of his first four films and that 'Sonatine' was a reflection of his emotional state whilst making them. The film follows Murukawa (played by Kitano himself) a Tokyo situated yakuza who is sent to Okinawa in order to settle a dispute between two different gang factions. Upon his arrival Murakawa realises that his presence isn't needed and, he, along with his gang, move to the beach to relive their adolescent happiness. In a cinematic sense 'Sonatine' is very similar to Kitano's earlier features; once again he adopts a minimalistic existential atmosphere and intertwines moments of surreal dream like beauty with harsh, unforgiving violence. Murukawa's obvious suicidal tendencies (established by a game of Russian roulette) are juxtaposed throughout the film by his childlike sense of humour and his quietly caring nature, in this sense Murukawa is elevated against Kitano's similar earlier characters resulting in a deeper feeling of gravitas. Musically Kitano once again returns to Joe Hisashi (most famous for his work with Studio Ghibli), who weaves an emotive score that compliments the film's beautiful imagery and thematics without being overly manipulative or relied upon. Overall 'Sonatine' is a moving character study about reservedness in Japanese culture and the impermanence of innocence, the film's poignant finale is arguably Kitano's most powerful to date and will stick with you long after the credits finish rolling. A true materpiece.
Cameron Sherwell
Super Reviewer
A prosperous Yakuza is sent by his boss to settle a gang war between rival factions but when the violence escalates he begins to suspect that the whole situation is a set up designed to steal his turf. Sonatine is the film where Beat Takeshi began to perfect his trademark style of laconic, offbeat characters embroiled within a world of violence that is streaked with his blackest of the black sense of humour. It's probably one of the most laidback gangster films you will ever see, as despite the sporadic bursts of dramatic and extreme violence much of the film is spent with the off duty gangsters while they are bored and bonding on a sleepy beach front. In fact, the lack of glamorisation of the bloodshed and the unsentimental approach to the characters and their relationships make this pretty much the antithesis of the likes of John Woo and his ilk. Kitano instead prefers to show the ugliness of their lives in contrast to the unlikely friendships that are the result leading up to an affecting and unforgettable climax. Embellished by a soundtrack that is understated and sparse yet strangely beautiful - a perfect reflection of the film itself - Sonatine is a true original.
½
Good, but I think Kitano's work got even better.
Bob Stinson
Super Reviewer
Sonatine Quotes
There are no approved quotes yet for this movie.