Son Of God
(2014)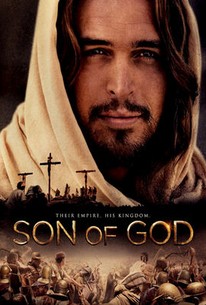 TOMATOMETER
AUDIENCE SCORE
Critic Consensus: The faithful may find their spirits raised, but on purely cinematic terms, Son of God is too dull and heavy-handed to spark much fervor.
Movie Info
This major motion picture event -- an experience created to be shared among families and communities across the U.S. -- brings the story of Jesus' life to audiences through compelling cinematic storytelling that is both powerful and inspirational. Told with the scope and scale of an action epic, the film features powerful performances, exotic locales, dazzling visual effects and a rich orchestral score from Oscar (R)-winner Hans Zimmer. Portuguese actor Diogo Morgado portrays the role of Jesus as the film spans from his humble birth through his teachings, crucifixion and ultimate resurrection (c) Fox
News & Interviews for Son Of God
Critic Reviews for Son Of God
Audience Reviews for Son Of God
½
Cobbled together from a History Channel miniseries, Son of God lacks a cinematic touch. In a rather pedestrian way the film tells the Gospel story; following the birth, ministry, and death of Jesus of Nazareth. The storytelling and character development are quite poor, as the film pretty much requires the audience to already know the Biblical accounts of Jesus. Additionally, there's no vision to this depiction of the Gospel. Bottom line, Son of God is a bland, ambitionless Biblical film that offers nothing new or insightful.
Dann Michalski
Super Reviewer
½
The latest American Christian movie produced by Mark Burnett and Roma Downey, was adapted from the ten-hour miniseries The Bible, shown on the History channel. Dully directed by Christopher Spencer it managed to gather a bunch of uncharismatic actors with Diogo Morgado, Roma Downey and Darwin Shaw leading the group. The screenplay was simply edited version of the text from the Gospel according to John which follows the life of the Messiah. The credit for that belongs to Richard Bedser, Christopher Spencer, Colin Swash and Nic Young. I definitely prefer the reading of the story from the Scriptures, because this filmed version was historically so inaccurate that I wonder how it passed any editor at History Channel! All I could watch were re-chewed scenes from the miniseries as well as boring footage not aired in the telecast. The possible interesting parts were not included like scenes featuring Satan (played by Mohamen Mehdi Ouazanni) due to a controversy from the series that claimed the actor resembled the United States President Barack Obama. The resemblance was first pointed out notably by Glenn Beck ahead of that episode's premiere on History Channel. It seems like Sunday School tool, very shallow, and almost perfect for Catholic sanitised views on the Scriptures. All those miracles and amazing events were presented in a tone which was so flat, that soon became a perfect instrument for snoozing! If you think that you have more faith than the size of a mustard seed and you can cope with a bad story, directing and acting - go for it! Maybe at the end you'll write that is inspirational!?
Safe to the point of unyielding boredom, Son of God is a film that is too fearful to be anything but bland. It's a resuscitation of the life and times of Jesus Christ, but it's so static because it's a collection of the Jesus Greatest Hits checklist. This is more a jumble of scenes than a movie, with little room given to flesh out the man who asked others to eat of his flesh. If anything, the one takeaway it presents is a more rounded and surprisingly empathetic perspective on why the leaders of the time felt threatened by Jesus. There is nothing here that stands out, that separates it from the glut of Biblical dramas of the past, beyond a penchant for reaction shots of an anguished Mary (Roma Downey, a producer as well). Son of God is shot and acted with the limited vision of a TV movie, and it's easy to see why. The movie is actually partially culled from footage of The Bible miniseries that aired on the History Channel in record numbers. With that context, it's easy to see the movie as a crass brand extension. I almost fell asleep at several points chiefly because I knew exactly what was coming and had little engagement with those onscreen. Just because you got Jesus up there doesn't mean to get to slack when it comes to characterization. Even Mel Gibson's Passion of the Christ brought the cinematic spectacle. This is just a bland movie that only preaches to the converted. Nate's Grade: C
Nate Zoebl
Super Reviewer
Son Of God Quotes
There are no approved quotes yet for this movie.