Somewhere in Time
(1980)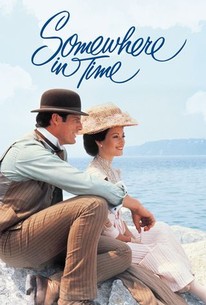 Movie Info
Christopher Reeve got away from Superman and related costume roles in this dramatic fantasy film, adapted from Richard Matheson's 1960s vintage novel Bid Time Return. A young playwright, Richard Collier (Reeve), is approached by an elderly woman on the occasion of his first triumph in 1972 -- all she says to him is "Come back to me" and leaves him with a watch that contains a picture of a ravishing young woman. Eight years later, he visits the Grand Hotel on Mackinac Island and comes upon a photograph of the same woman, whom he discovers was an actress who made an appearance at the hotel in 1912. He becomes obsessed with the image and what the woman -- who died the night she approached him in 1972 -- meant by what she said. In a manner somewhat reminiscent of the film Laura, he falls in love with her and her image as he learns more about her life and career. Then he comes upon the suggestion of a professor at his former college that time travel may, in fact, be possible, using an extreme form of self-hypnosis to free the person from the place they occupy in the time-stream. Collier's feelings for the woman are so strong that he succeeds, bringing himself back to the hotel in 1912 on the eve of her triumph. He meets the actress, Elise McKenna (Jane Seymour), and the two fall in love despite the machinations of her obsessive, autocratic manager (Christopher Plummer), who feels threatened by Collier's presence. ~ Bruce Eder, Rovi
News & Interviews for Somewhere in Time
Critic Reviews for Somewhere in Time
Audience Reviews for Somewhere in Time
½
Okay, I can relate to women of 1980 who were looking for something romantic to cling to. Still, I cannot be remiss if I didn't also ask them why the hell they herald this as a classic. The plot is so diluted of any type of reality or at least common sense, it just ruins the movie. The chemistry between Seymour and Reeve is a crowd pleaser, but you can't stick two people together with little romantic license and pretend it's just love at first sight, especially not with such an involved subplot. Personally, this just tired me. I do give kudos to Christopher Reeve, who showed us he is a decent actor even among such a shitty plot and premise.
Spencer S.
Super Reviewer
I expected to enjoy this film quite a bit. Along with "When Harry Met Sally," which I highly enjoyed, this ranks up with my dad's favorite movies. My expectations ran right into a solid, hard brick wall. John Barry's fine score is the only shining point in this remarkably bad film. Christopher Reeve can't play a believable courter to save his life, the screenplay muddles everything from romance to time travel, and the result is an absurd film that takes itself far too seriously. As the film progressed, I was nearing the point of physically injuring myself. Seriously. This is about as perfect an example as there is of bad, bad filmmaking.
Jay Hutchinson
Super Reviewer
An interesting time travel story, a bit far fetched, but interesting. Reeves is good in this movie, and it's pretty romantic too, so I enjoyed it.
Somewhere in Time Quotes
There are no approved quotes yet for this movie.