Solitary Man
(2010)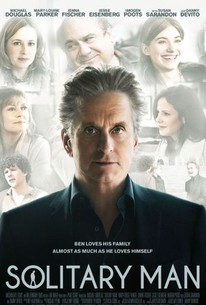 TOMATOMETER
AUDIENCE SCORE
Critic Consensus: Built around a singularly unpleasant main character, Solitary Man needed a flawless central performance to succeed -- and Michael Douglas delivers.
Movie Info
A once successful Manhattan mogul who owned a chain of car dealerships finds himself on the brink of a fantastic comeback. His marriage and businesses were lost to him through a series of indiscretions of romantic and financial natures. His new girlfriend has a father that is offering him a second lease on life, but the one catch is he has to take his girlfriend's daughter on a weekend college visit where he absolutely must behave himself or lose everything.
News & Interviews for Solitary Man
Critic Reviews for Solitary Man
Audience Reviews for Solitary Man
½
Good acting from Michael Douglas but his character is a reprehensible creep so it is difficult to feel sympathy for his plight.
½
In Solitary Man, Michael Douglas once again plays the ultra smooth, shark of a man... a man's man type character that he took for a spin in Wall St. This guy has his own view of the world (a rather myopic one, to be sure), and therefore can look anyone in the eye and apologize for nothing. That his outlook causes a fall of Learian proportions... well, he's not going to apologize for that either! The film has a tight script and some fine performances, including Mary Louise Parker, Danny DiVito, and Susan Surandon (who has the Herculean task of playing a sympathetic ex wife who, in spite of numerous infidelities and the king's ransom that Douglas lost, still loves and admires her man). In the final scene of resolution, Surandon tries her best to be natural, but the lines she has to utter... well, it's almost like she's the straight man, allowing Douglas to riff, and therefore explain through a simple incident, his own brand of megalomania. There seems to be a certain admiration towards this man whose credo seems to be, take a chance and doors will open; to the point where DiVito, happily married for 30 years still living where he grew up, tells Douglas that he was not alone when he was put on the cover of Forbes Magazine (in other words, DiVito was practicing hero worship and living vicariously through Douglas' exploits). I really don't know if this is the message of this film, or if one was even intended, but it certainly entertains, so just sit back and watch Douglas in fine form - a flawed character that you have no business rooting for, and yet, due to Douglas' charisma, you end up rooting for in spite of yourself.
paul sandberg
Super Reviewer
"You can't cheat death, Benny. Nobody can, no matter how many 19-year-olds you talk into your bed." The topic of the mid-life crisis and men losing their identity and sense of self as they get older has been fertile ground for movies in the past, and Solitary Man is another entry into that sub-genre. It's a drama with slight comedic elements. Michael Douglas stars as a once powerful man who lost his wealth and position when he was caught running a scam. He fills that void with ill-advised trysts with young women and depending emotionally on his exasperated daughter. When his last-ditch attempt to regain his past career is derailed because of another poor decision, he has to confront what his life has become, his own self-destructive behavior, and how his choices have affected the people around him. This isn't a ground-breaking story, but it's certainly watchable and occasionally emotionally involving. The real reason to see Solitary Man is the cast. Along with Douglas, the movie stars Mary-Louise Parker, Imogen Poots, Danny DeVito, Susan Sarandon, Jesse Eisenberg, and Jenna Fisher. Some of the parts are bigger than others (I really wish Sarandon would have been a larger part of the movie), but fans of any of them will want to see this. For everyone else, Solitary Man is a movie you should watch if it piques your interest. Will you be adding it to the list of your all-time favorites? Probably not. It's definitely worth ninety minutes on a Sunday afternoon, though.
Solitary Man Quotes
There are no approved quotes yet for this movie.