Solaris
(2002)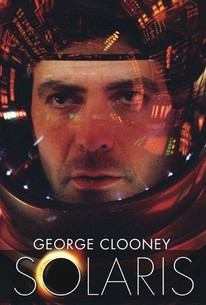 TOMATOMETER
AUDIENCE SCORE
Critic Consensus: Slow-moving, cerebral, and ambiguous, Solaris is not a movie for everyone, but it offers intriguing issues to ponder.
Movie Info
A therapist travels to a distant space station to treat a group of astronauts traumatized by mysterious entities -- and ends up having to deal with an entity of his own -- in this second film version of Stanislaw Lem's philosophical sci-fi novel. Solaris stars George Clooney as Chris Kelvin, a psychologist still mourning the loss of his wife Rheya (Natascha McElhone) when he's implored by a colleague named Gibarian (Ulrich Tukur) to investigate the increasingly weird goings-on at the Prometheus space station. By the time Kelvin gets there, Gibarian has committed suicide, leaving only the cryptic, babbling Snow (Jeremy Davies) and the paranoid, guarded Gordon (Viola Davis), both of whom are holed up in their respective rooms. As Kelvin interrogates the skeleton crew, he learns that they've had unwanted "visitors," apparitions of long-dead friends, family, and loved ones who are apparently being generated by the interstellar energy source Solaris. The doctor is dubious of their claims until one night he, too, is greeted by his wife Rheya (Natascha McElhone), whose death still torments him. At first skeptical of the new Rheya, Kelvin gradually becomes obsessed with her -- and with the guilt that he feels over their troubled marriage -- to the point where the others begin to fear for his sanity. Produced by James Cameron, Solaris represented director Steven Soderbergh's first screenplay credit since the independently financed Schizopolis in 1996. ~ Michael Hastings, Rovi
Critic Reviews for Solaris
Audience Reviews for Solaris
This 2002 remake of Andrei Tarkovsky's Solaris manages to be far less ambitious and goes straight to the point. I thought it was a good take on the classic film, but it doesn't have the epic visuals and terrific, yet simple story that the original possessed. Of course, this film echoes what the 1976 film had, but it never goes in depth with its subject, and it doesn't do anything new or refreshing. With that being said, Watch the original film instead, it's far superior and it's a classic of the genre. This remake is good, but it never comes close to the original. The acting in this remake is very good, and I thought that overall it was a solid film, but it also rushed through the story a bit. With the original, it took its time to let the story unfold and it worked brilliantly and that's one of the main reasons that Tarkovsky's Sci Fi classic is so unique and ultimately memorable. With this remake, you get a far shorter film, one that doesn't reach its potential and in turn lacks the development that made the original so good. Nonetheless, this remake is good, but it could have been better as well. Luckily the cast are great, and it's the film's strongest asset. However, I would recommend the 1976 film instead of this one, but if you want a more stripped down version, with less ambitious ideas, then this remake is for you. In terms of revamping a classic film, Solaris like every other remake before or after it has left a bit to be desired, and makes you want to watch the original film. The ideas expressed on-screen, are things we've seen before, and there never is new blood injected into the story. For a remake however, it's quite good, but it's nothing compared to the film that came before it.
Incoherent, but looks good and is well acted
Spencer Macklin
Super Reviewer
[img]http://images.rottentomatoes.com/images/user/icons/icon14.gif[/img]
Directors Cat
Super Reviewer
Solaris Quotes
There are no approved quotes yet for this movie.