Soar Into the Sun
(2012)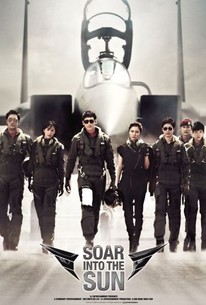 AUDIENCE SCORE
Critic Consensus: No consensus yet.
Movie Info
A South Korean Elite Black Eagles Air Force pilot Tae-hun finds himself transferred to a combat flying unit after a cocky, unplanned, and dangerous air show demonstration. On the first day of his transfer to F15K, he meets Cheol-hui, the unit's own top gun. Tae-hun is free-spirited, whereas Cheol-hui plays by the rules, and the two come into conflict almost immediately. However, Tae-hun quickly befriends his other colleagues: Dae-seo, Yu-jin, and Seok-hyeon. He also falls in love with Se-yeong, who is in charge of maintenance. Tae-hun continues his free-spirited ways and his antics get suspended from duty. Then one day, reconnaissance mission turns into an unexpected incident, ending in Dae-seo's untimely death and Seok-hyeon's disappearance. Initially blaming Cheol-hui for the tragedy, he and Tae-hun eventually come to an emotional understanding. Now the F15K make preparations to stop a war and rescue their missing comrade. -- (C) CJ
Critic Reviews for Soar Into the Sun
All Critics (2) | Top Critics (1) | Fresh (1) | Rotten (1)
"R2B" wanders into the weeds, with inordinate amounts of time given to one character's domestic life and another's emerging romance.
Under Kim Dong-won's ebullient direction, the movie, for all its genre derivativeness and predictability, is pretty swell entertainment.
Audience Reviews for Soar Into the Sun
½
Dong-won Kim's R2B: Return to Base goes for the top gun.
For a 110 minutes of screen time, the excitement is lacking. The story is predictable and a number of the characters are underdeveloped. There are moments when the film is seemingly trying to be funny, but it never reaches the pinnacle of laughter.
The jet and action sequences are passable. Once the end credits finish rolling, there isn't much to remember about any of it. There is also a heavy reliance on CG, which is decent enough. Still, all the military hardware is the highlight of the film.
Rain does have his moments, although not award winning. Shin Se-kyung has a pretty face, but delivers a performance more geared toward a drama. The rest of the cast do what they can with the characters they are given.
R2B: Return to Base has its share of pros and cons. At the end of the day, it is a watchable film out of Korea.
Soar Into the Sun Quotes
There are no approved quotes yet for this movie.