Snow Day
(2000)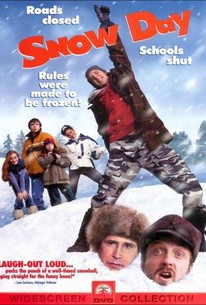 Movie Info
Anything can happen on a Snow Day-and for Hal and Natalie Brandston, it does. For 15-year-old Hal, "anything" means the determination to declare his love for the girl of his dreams, high school heartthrob Claire Bonner. Who cares if Claire's beautiful and popular and doesn't even know he exists? So what if Claire's almost-ex-boyfriend, superjock Chuck Wheeler, is his competition? Snow Day magic is a powerful thing. And with Hal's pals Bill and Lane to cheer him on, this day is destined to change his life forever. Though maybe not exactly as he planned... While Hal's out attempting to win Claire's heart, his 10-year-old sister Natalie is driven to action by the object of her own desire: the legendary Second Snow Day. The stuff of miracles, the Second Snow Day represents the ultimate triumph of kids over the dull day-to-day adult world. Second Snow Days are so rare that no one Natalie knows has ever experienced one. Why? The dreaded Snowplowman, who crushes kids' hopes with the chains on his tires. But this year, Natalie's gonna change all that. And nothing can stand in her way-not even Snowplowman! When the sun sets on this spectacular Snow Day will Hal be found cuddling with Claire? Will Natalie have succeeded in her quest for the coveted Second Snow Day? Will parents everywhere pray for a heat wave?
Critic Reviews for Snow Day
Audience Reviews for Snow Day
"Snow Day" is a very kid-friendly film that celebrates the joy of the winter season, while also following every single romance cliche in the book. This film feels like half kid-comedy and half teen-soap. The acting is ham-handed and the script is thin, but it has just the right amount of heart and spirit to keep it afloat. The fan base of this film comes directly from kids between the ages of 8 and 14, where the jokes are understandable, before they become laughably cheesy. Many of these actors have gone on to do something big, and for me, this film is a big nostalgia piece. I have a blast watching these characters journey through an event-filled day off school. It's a dumb fun movie that everyone can turn their brains off and enjoy. There is just something about it that clicks.
½
"Snow Day" centers around a bunch of kids who aren't sick, but they are sick of school. They live in upstate New York, so it would have to snow a whole lot for schools to be cancelled due to the white stuff. But it would be a dream come true if only classes were closed for a day or two. Well, that just happens when all of a sudden, it snows several inches, closing the schools. But how long will schools be closed? Oh yeah, and don't forget that anything can happen on a snow day. "Snow Day" has several subplots aside from schools just being closed. Chevy Chase stars as a meteorologist who envies a more popular weatherman, one guy will stop for nothing on his way to try and earn a date with his dreamgirl, and a few kids don't like the snow plow man. Since I live in the southeast, it doesn't take much more than just a few snow flakes to make everybody head to the grocery stores and to shut just about everything down. When I used to be in school, I had a few snow days, but none of them were as action-packed as the one in "Snow Day" the movie. "Snow Day" isn't a bad movie, but it is more geared towards the younger generation that can still enjoy the benefits of a real snow day, but adults can enjoy the movie too. NOTE: That was my Amazon review from the year 2001.
Jason Owens
Super Reviewer
Snow Day Quotes
There are no approved quotes yet for this movie.