Smooth Talk
(1985)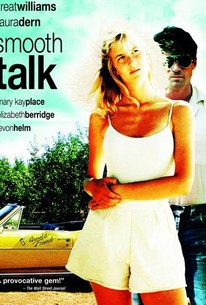 Movie Info
Produced for PBS's American Playhouse series, Smooth Talk was given a brief theatrical release before its "official" February 9, 1987 TV debut. Laura Dern plays a teenager anxious to experience the pleasures of sexual contact. Left alone in the family summer cottage when her mother (Mary Kay Place), father (Levon Helm) and sister (Elizabeth Berridge) go shopping, Dern decides to wander into town for male companionship. She makes the acquaintance of Treat Williams, a handsome if mildly psychotic type who identifies himself as "A. Friend" and behaves like James Dean. When she returns home, Dern is bewildered and dishevelled. We can only speculate as to whether or not she was raped by Williams; we do know that she isn't the same person we met at the beginning of the film. Smooth Talk was based on a 1970 short story by Joyce Carol Oates entitled "Where Are You Going, Where Have You Been?"
Critic Reviews for Smooth Talk
Audience Reviews for Smooth Talk
½
I was expecting this to be a fun 80's teen movie, so I got a bit of a shock by the turn it actually took. One of the most chilling and believable films I have seen about being a teenager. The silly girls in this really rang true to some of the girls I grew up with in the 80's and I was really impressed with Laura Dern. I wonder why it wasn't more well known, I had actually never heard of this until recently, and I love 80's films, particularly the teen variety. I don't remember anything about this from when I was growing up. Perhaps it was more popular over in the US. Well worth a look for anyone who likes this genre, who, like me, may have missed out on it first time around.
Nicki Marie
Super Reviewer
The main thing that even made this movie watchable is that Laura Dern was sexy.
Chosen 718
Super Reviewer
Smooth Talk Quotes
There are no approved quotes yet for this movie.