Small Town Gay Bar
(2007)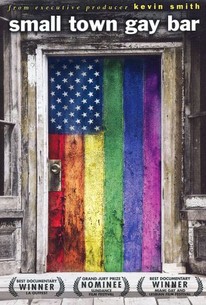 Movie Info
Director Malcolm Ingram offers a poignant look at the struggle waged by rural gay Americans to find a place of their own in the heartland with a film that shows just how hard it can be to fit in when homophobia and intolerance are the status quo. In the Deep South, gay bars often provide a place of refuge to people who would otherwise be shunned for their sexual preferences. As the owners of two Mississippi gay bars speak candidly about their constant struggle to maintain their presence in hostile territory, what emerges is a telling tale about the ongoing struggle for equal rights in the rural United States and the role that these much-derided establishments play in giving their patrons a sense of community in a land where they are frequently made to feel like outcasts.
News & Interviews for Small Town Gay Bar
Critic Reviews for Small Town Gay Bar
Audience Reviews for Small Town Gay Bar
While very thoughtfully made, this has to be one of the most depressing films that I've seen in a long time. As if the blatant homophobia and prejudice were not depressing enough...the fact that the "bars" that these folks relish and take refuge in are often little more then rundown houses or shacks with a strobe light, beer cooler and a CD player was just heartbreaking. So desperate for a place to "fit in" and make some sort of honest connection with like minded people, these folks were just happy to be anywhere where they could be themselves. But I was more then a little amazed that in such a repressed part of the country that nearly every gay or lesbian shown in this film was "off the charts" on the gay meter. We are talking Flaming Boys/Men, Raging Drag Queens, and some pretty Butch Lesbians. Not that I'm advocating hiding who you are. I just feel that if I were living in an area where my life could be at stake for "being who I am" I think I would make more of an effort to "blend in" or move to somewhere more civilized. Let the bigots and the Jesus freaks have the backwoods! My main problem with the film is that I didn't feel that the point came across as clearly as it needed to, about how all of the negative aspects of "gay lifestyle" that the bigots and hypocrites always seem to focus on (promiscuity, infidelity, drugs, etc.) are for the most part just a prevalent in "hetero lifetyles" as well. I guess as documentaries go...it does it's job for the most part. It makes you think.
This isn't as depressing as the title would suggest, but conversely, it isn't as raunchy as one might hope. We have to wait until 35min to get the segment this film was required to include: montage of partying shots set to "I Wanna Take You to a Gay Bar". Set throughout Northern Mississippi, this documentary examines gay life in the Southern Bible Belt of USA. The biggest question I have (which this film should have asked all of its subjects) has still not been asked: why the hell are these queers stickin around these shit places? Nearly everyone interviewed gets to bitch about widespread discrimination, but not a single one explains why they've decided to remain living in this oppressive environment. Seriously, not one person goes on about "Well, I still love it down here, raised here, my family's here," etc. But we do get the other side: Phelps discussing how "fags ruined the community" was his original "inspiration" for his widespread hate campaign. I wasn't aware that Phelps was broadcasting license plates of people who were "spotted at a gay establishment", but I'm not surprised by any of his tactics or beliefs as I've seen the American Family Association site before (and the Phelps freaks themselves at Decadence). I think this film crew was not aggressive or planned enough with their interviews, and the result is an uninspired mashing of interviews. Perhaps important for the tiny gay community in Mississippi (all 100 of 'em) but I really can't see the relevance to gay culture in larger cities such as New Orleans where I live. Gay bashing ain't goin' nowhere, and there will always be a need for a community to aid people with "coming out", but the irking questions I had, like "how do queer people specifically deal and cope in pressure based small communities?" and "why the fuck don't they just leave?" were barely answered (the second question not at all).
_kelly .King
Super Reviewer
½
[font=Century Gothic]"Small Town Gay Bar" is an illuminating documentary that could have used better camera work about what it means to be gay or lesbian in a hostile environment, specifically rural Mississippi where the American Family Association is located in Tupelo. This region is also where everybody's least favorite bigot, Fred Phelps, originates from.(Both Phelps and Tom Wildmon are interviewed and do a spectacular job of indicting themselves. Interviews with various brave members of the local gay and lesbian community offer personal commentary to refute their bigotry.) Of particular interest is the murder of Scotty Weaver who was tortured and killed in Bay Minette in 2004 because he was gay.[/font] [font=Century Gothic]The documentary is concerned with gay bars in the region, namely Rumors which is located in Shannon, while also providing a history of such establishments going back to 1978 which have a history of being harassed by police. They offer to the gay and lesbian community a sanctuary where they can relax, socialize and be themselves or a member of the opposite sex for that matter. In contrast, a nearby bar has a Confederate flag draped from the ceiling.[/font]
Small Town Gay Bar Quotes
There are no approved quotes yet for this movie.