Slow Burn
(2007)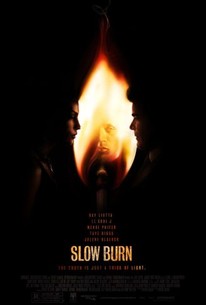 Movie Info
A cop trying to clear the name of a woman he loves falls deep into a morass of corruption in this crime thriller. Ford Cole (Ray Liotta) is the district attorney in a crime-ridden town where he's contemplating a run for mayor in a bid for greater power. Cole is also having an affair with one of his assistants, Nora Timmer (Jolene Blalock), though he tries to keep that a secret. One evening, while Cole is chatting with journalist Trippin (Chiwetel Ejiofor), Timmer arrives with startling news -- she claims to have been sexually assaulted by Isaac Duparde (Mekhi Phifer), a clerk at a nearby music store who broke into her apartment. Making matters more complicated is the fact that Duparde is currently dead in her flat, leaving Cole to find a way to protect Timmer while not staining his own reputation. Cole realizes this may be harder than he imagined when Luther Pinks (LL Cool J) arrives on the scene to tell him that Timmer actually lured Duparde back to her apartment on purpose, in an effort to get information on a well-connected organized crime figure. Slow Burn was the first directorial effort from screenwriter Wayne Beach.
News & Interviews for Slow Burn
Critic Reviews for Slow Burn
Audience Reviews for Slow Burn
Slow Burn is a clever and stylized crime drama. The story follows district attorney Ford Cole as he investigates an assault on his assistant Nora Timmer, but the investigation takes a strange turn when an informant tells him that Timmer is working for a local crime lord. The cast includes Ray Liotta, Jolene Blalock, Mekhi Phifer, and LL Cool J; all of whom give good performances. Additionally, the story is well crafted, and is able to effectively build suspense and dramatic tension. Full of intrigue and mystery, Slow Burn is a provocative film that's quite compelling.
Dann Michalski
Super Reviewer
½
A pretty decent crime thriller with a strong cast. Not a lot of action but I thought it was a good story with some decent plot twists. In some elements it is like the usual suspects in the way the story unfolds with quite a few red herrings along the way. An enjoyable film that seemed to slip under the radar.
½
[font=Century Gothic]In "Slow Burn," district attorney Ford Cole(Ray Liotta) is running for mayor on a record of being tough on organized crime with the help of his forceful assistant district attorney Nora Timmer(Jolene Blalock). But this has also earned him his share of enemies, including the legendary gangster Danny Ludin who runs the Omen gang.(Ludin is so twisted that he has taped every episode of "Friends.") One night while riding with reporter Ty Trippin(Chiwetel Ejiofor), Ford receives word that Nora killed Isaac Duperde(Mekhi Phifer), a music store worker who met her a week before and raped her. But a friend and coworker of Isaac's, Luther Pinks(LL Cool J), contradicts her by saying that Isaac and Nora have been acquainted for months.(This does not mean that she was not raped...) As proof, he mentions a tattoo on Nora's backside that Ford is familiar with from their lovemaking...[/font] [font=Century Gothic][/font] [font=Century Gothic]"Slow Burn" is a stylish attempt to do a modern noir with an erotic edge(shown perfectly in Jolene Blalock's barefoot stride across the music store) that starts promisingly, but eventually ties itself into so many knots that it just becomes one huge mess. Still, despite the obvious cinematic references("The Usual Suspects" and "Rashomon" to name a couple), there are some interesting thoughts on the subject of race, especially with how differently Ford and Luther view Nora who has light brown skin. What would have helped is if the movie's timeframe had been extended from one night, so as to properly develop a potentially vibrant milieu.[/font]
Slow Burn Quotes
There are no approved quotes yet for this movie.