The Sleepy Time Gal
(2001)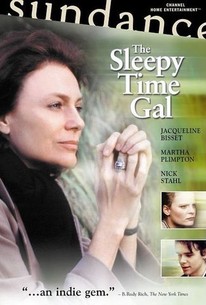 TOMATOMETER
AUDIENCE SCORE
Critic Consensus: A thoughtfully assembled drama brought to life by sensitive performances, Sleepy Time Gal offers an intriguing glimpse of a woman at a crossroads.
The Sleepy Time Gal Photos
Movie Info
Two women connected by family are drawn closer by fate in this low-key drama. Frances (Jacqueline Bisset) is a woman in her early fifties who had already begun to sense time was running out for her when she learned that she has cancer. While Frances is fighting the disease through medical treatment, she decides it's a good idea to do some travelling before it's too late, and she pays a visit to Bob (Seymour Cassel), a former boyfriend who now owns a farm in rural Pennsylvania. To Bob's surprise, Frances strikes up a fast friendship with his wife Betty (Peggy Gormley), and Frances shares a confession with her -- while Frances maintains a close relationship with her son Morgan (Nick Stahl), she also had a daughter by Bob that she put up for adoption, and she's not certain if she should track down the child while there's still time. Coincidentally, Frances' daughter is Rebecca (Martha Plimpton), a successful lawyer who has begun to express a curiosity about her birth parents. Rebecca has been hired by a large communications firm to deal with the paperwork regarding the purchase of a radio station in Florida, and while in the Sunshine State, Rebecca gets to know the station's manager, Jimmy (Frankie R. Faison). As Jimmy and Rebecca ease into a short-term romance, he shares stories about the "Sleepy Time Gal," a mysterious female disc jockey who worked at the station back in the '50s; what neither Jimmy nor Rebecca know is that the Sleepy Time Gal was actually Frances.
Critic Reviews for The Sleepy Time Gal
Audience Reviews for The Sleepy Time Gal
Sleepy Time Gal is one of those brilliant films that could only be part of American indie cinema. Frances, a mother, former writer and DJ, and lover of architecture and history, discovers she has terminal cancer, and so aims to tie up the loose ends of her life and spend time with her son. Meanwhile, in a different city, Rebecca, unhappy with her job as a lawyer and split from her boyfriend, decides to seek out some questions to her own life, including finding her birth mother, and start afresh. The two characters stories link together in various ways as, separately, each remembers and learns more about their lives. Firstly, I should get some criticism out the way. This is a very lyrical film, striving for and often achieving a kind of cinematic poetry. Unfortunately, this yearning extends to the dialogue, and some of the characters have the most ridiculously over-articulate conversations, even if they're just talking about everyday things. At one point Rebecca says to someone she's recently met "I admire your pragmatism". Ok, maybe some people do speak like this, but in the context of the film it feels a little daft. The other problem is the first 20 minutes or so. Very little information is offered as to what the hell is going on, and I found myself a little 'sleepy' myself. However, this does actually (eventually) play to the films strengths, as we discover more things about the characters and previous scenes make more sense. Don't get me wrong though, this isn't a film full of major surprises or twists; it's more a film about honesty and emotion. So now the plusses. First of all, the acting is great - Jacqueline Bisset deservedly got lots of praise and is equalled (thankfully, otherwise the film could have fallen apart) in ability and scope by Martha Plimpton's performance. Nick Stahl is also nicely understated. The way memories are shown is very inventive, by use of black-and-white film sped up and blurred images, still photographs and paintings and camcorder footage. Finally, the photography is, at times, stunning, with beautiful location shooting in New York, Pennsylvania and Florida. It's a bit of a depressing film in parts, but it's also refreshingly unsentimental, instead quietly poignant, and has an ending that mixes sadness and optimism in a way I wasn't expecting.
Daniel Parsons
Super Reviewer
The Sleepy Time Gal Quotes
There are no approved quotes yet for this movie.