Slaughterhouse-Five
(1972)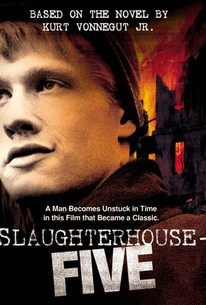 Slaughterhouse-Five Photos
Movie Info
"Billy Pilgrim has come unstuck in time." These opening words of Kurt Vonnegut's famous novel make an effective and short summary of a haunting, funny film. For the screen, director George Roy Hill faithfully renders Vonnegut's black anti-war comedy about Pilgrim (well played in a low key by Michael Sacks), who survives the horrendous 1945 fire bombing of Dresden then lives simultaneously in his past as a naïve American POW and in the future as a well-cared-for zoo resident on the planet Tralfamadore (with zaftig Valerie Perrine as his mate). In the present, he's a middle-aged optometrist in Ilium, NY. If this sounds like a bit of a jumble -- it is. But viewers willing to watch carefully will find the movie as intricate and harmonious as Glenn Gould's plaintive renderings of the Bach keyboard pieces that decorate its soundtrack. It's not essential, but fans who read the short, poetic book will find it a treat in itself, and it will help them appreciate Hill's genius in bringing this "Children's Crusade" to the screen. In addition to Sacks, there are noteworthy performances by Ron Leibman (Norma's union man in Norma Rae) as Pilgrim's crazed nemesis and by radio/TV/movie legend, John Dehner as the arrogant Professor Rumfoord. Hill, of course, came to this film from a big hit, Butch Cassidy and the Sundance Kid, and went on to triumph with The Sting one year later. The elaborate medieval and baroque architecture of pre-bombing Dresden was represented authentically in the film by scenes from Prague, since much of Dresden's architecture was lost to the bombing, and that city, in any case, was deep in East Germany, thus inaccessible at the time of filming. ~ Michael P. Rogers, Rovi
Critic Reviews for Slaughterhouse-Five
Audience Reviews for Slaughterhouse-Five
An interesting sci-fi that sadly fails by only hinting at its philosophical ideas and not going deeper into them. The narrative is always fluid, with elegant scene transitions and visual rhymes, but also vague about whether it wants to be a satirical piece or not.
Carlos Magalhães
Super Reviewer
World War II vet Billy Pilgrim time-jumps throughout his life on Earth and on Tralfamadore. In the list of unfilmable books I thought that Kurt Vonnegut's most famous novel would rank high on the list next to Naked Lunch, but George Roy Hill's adaptation of Slaughterhouse-Five diverges from the book just enough to make it a viable film and stays true enough to the novel that it still retains the plot and spirit of the original. The overall philosophy - that "life is just a collection of moments, and the trick is to remember the good and ignore the bad" - emerges both as a line of dialogue and a lesson demonstrated by the narrative structure of the film without seeming didactic. Michael Sacks's performance is exemplary, playing Billy with a naivete and innocence that is both charming and endearing. Sacks captures the origin of Billy's milquetoast nature as it emerges from a wisdom borne of timelessness. One of my friends argued that Slaughterhouse-Five is a patriarchal, misogynist book, and I disagreed because the female characters have an inner life that Vonnegut doesn't downplay. Unfortunately the film didn't keep this aspect of Vonnegut's narration, and Valencia and Montana emerge respectively as a crazy, superficial nut-job and an over-willing sexual partner. Overall, Hill's film is a fine testament to one of the great American novels.
Jim Hunter
Super Reviewer
½
Like Kurt Vonnegut's novel, Slaughterhouse-Five blurs the line between fantasy and reality, intermingling the two until they're inseparable and indiscernible.
Randy Tippy
Super Reviewer
Slaughterhouse-Five Quotes
There are no approved quotes yet for this movie.