Slap Shot 2: Breaking the Ice
(2001)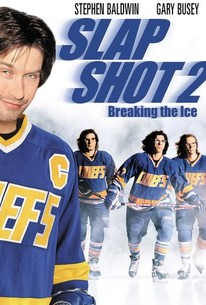 Slap Shot 2: Breaking the Ice Photos
Movie Info
It's been 25 years and the minor league hockey team Charlestown Chiefs are still languishing in West Virginia. Player/coach Sean Linden (Stephen Baldwin) has taken the reins from Reggie Dunlop, but he's given up trying to control the "old school hockey" trio of the Hanson brothers (Jeff Carlson, Steve Carlson, and David Hanson), and their violence is the hallmark of the Chiefs -- they even attack the opposing team's costumed mascots. But a new (female) coach (Jessica Steen) is brought in once the team is bought by an exceedingly wholesome corporation run by corrupt executive Dean Claremont (Gary Busey) who intends to use the Chiefs as the hapless foils for the shiny new IceBreakers, hockey's version of the comic Harlem Globetrotters, with choreographed antics, guaranteed losses, and inept, non-violent play against a team of arrogant Ivy Leaguers. Can the Chiefs swallow their pride and actually go along with the scheme, or will their hockey instincts take over on the ice before a vast TV audience?
Critic Reviews for Slap Shot 2: Breaking the Ice
Audience Reviews for Slap Shot 2: Breaking the Ice
Sequel to one of the greatest sports comedies ever made is one of the worst films ever made. I have never seen such an uninspired sequel or film for that matter. I don't know where to begin with this travesty? Cast, a bunch of washed up has beens or others trying to make it in the film industry. You have Gary Busey here, The guy was relevant when he was in Point Break, but not anymore. Same with Stephen Baldwin, the guy wrecked his career with Pauly Shore's Biodome, great career move. Anyhow Slapshot 2 is a dud, a waste of time and a terrible insult on the original. Slap Shot 2 doesn't try to break new ground or do anything original, funny and amusing. Theres a few comic bits here and there, but it becomes repetitive very quickly and the jokes become stale and unbearable. The story for this is film is fairly terrible as well, and it makes Slap Shot 2 one of the worst sports sequels since Caddyshack 2. this film is an insult to hockey, hockey fans and the original film in the process. Thats quite a feat NOT to be proud of. But really what do you expect from a film that has a bunch talentless actors? not much. I'd never thought I'd say this, but even the legendary Hanson brothers are annoying and don't bring on the same laughs as they did in the first film. It's too bad. Slap Shot has the unfortunate distinction of being one of many great films that have very bad sequels. A real shame. Slap Shot 2 should be avoided at all costs, whatever made the first film so great is absent here and theres more irritating and unfunny jokes that seem to try too hard at making you laugh, something that never quite works.
Goes for the open net breakaway and falls down about center ice.
Joseph Eastmond
Super Reviewer
Slap Shot 2: Breaking the Ice Quotes
There are no approved quotes yet for this movie.