Slacker Uprising
(2008)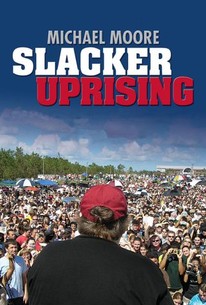 Movie Info
Opinionated documentary filmmaker Michael Moore takes an up-close look at the political leanings of college students in George W. Bush-era America with this effort shot during Moore's 60-city college campus tour in the months leading up to the 2004 election. The first feature-length film by a major director to make it's official premiere for free on the internet, Slacker Uprising finds Moore giving up any hope for making a profit on the film (which was budgeted at $2 million) in favor of getting his message out to the largest possible audience. That message? "Get off of the couch and give voting a chance." By taking the "Slacker Uprising Tour" to college campuses across the country and offering attendees a free change of underwear, a box of Ramen noodles, and a vow never to begin an event before noon nor allow any politician to speak at one of their events, Moore and his traveling band of speakers, comedians, and musicians managed to fill basketball arenas and football stadiums across the country with apathetic students who hungered for a serious sea change in the American political landscape. Featuring special appearances by R.E.M., Eddie Vedder, Viggo Mortensen, Roseanne Barr, Joan Baez, and Rage Against the Machine guitarist Tom Morello.
News & Interviews for Slacker Uprising
Critic Reviews for Slacker Uprising
Audience Reviews for Slacker Uprising
Though there was the odd useful fact or touching moment, this "documentary" was largely a self-serving dud. Eddie Vedder and Steve Earle perform, Rosanne Barr does five minutes of decent stand-up, but otherwise, very little of interest happens. It's like watching Moore's Oscar Speech: The Road Show. I admire Moore as a flimmaker, but this film chronicles Moore right on the heels of Fahrenheit 9/11 - I think his sense of self-importance was incredibly inflated at the time. Skip this one.
Daniel Perry
Super Reviewer
Another interesting film by Michael Moore about he tried to get everyone to vote in the 2004 election against George Bush. The film is rather interesting but I have no idea if it is true or not. I just find that Michael Moore makes a good documentary regardless of whether the information provided is completely accurate. It is still compelling to see what Michael Moore will do to get the truth.
Ian Walker
Super Reviewer
½
Definately not a regular awesome Moore doc. Seems like it was just thrown together and especially seems irrelevant because Bush has been in office for the past 8 years, but also is strange because we just elected Obama!
Sarah Prisbylla
Super Reviewer
Slacker Uprising Quotes
There are no approved quotes yet for this movie.