Skinwalkers
(2007)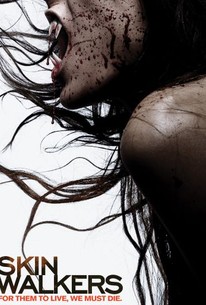 TOMATOMETER
AUDIENCE SCORE
Critic Consensus: Skinwalkers is an atrociously-acted project whose unoriginal and ineptly-staged action sequences remind viewers of far better werewolf and action movies.
Movie Info
His 13th birthday fast drawing near, an unsuspecting young boy on the verge of a remarkable transformation remains completely unaware that an ancient prophecy is set to be fulfilled with the rising of the red moon. To most folks, 12-year-old Timmy (Matthew Knight) would seem an average adolescent with a bright future on the horizon. In the tiny town of Huguenot, however, nothing is as it seems. As Timmy's health rapidly begins to take a turn for the worse, his concerned mother, Rachel (Rhona Mitra), does her best to care for the ailing young boy. Though his mother may not have a clue as to what fate is about to befall her frightened child, a group of specially appointed guardians who have been watching over Timmy since birth know the truth about the events that are beginning to unfold. Timmy is a half-blood, and when the red moon is full, the creature who once appeared to be a normal boy will finally gain the power to take control of his family's destiny. But until that fateful night, Timmy's life will be in constant danger by the renegade faction of lycanthropes who are willing to kill in order to maintain their vicious way of life. It won't be long until the red moon rises, but until that prophesied moment, the forces of light and the forces of darkness will clash in the ultimate battle for true supremacy. Jason X director James Isaac takes the helm for a frightening tale of fate and fantasy co-starring Elias Koteas, Jason Behr, and Kim Coates.
News & Interviews for Skinwalkers
Critic Reviews for Skinwalkers
Audience Reviews for Skinwalkers
½
well it doesnt leave much to the imagination!! its alrght movie with alright fight sequences but its just predictable and annoyingly boring in some places!
Film Crazy
Super Reviewer
I love werewolf and vampire movies, my fav, but this is kind disappointing. The story is stretched, a boy must survive to his 12th or 13th birthday so he can 'cure' the werewolf curse, some want this some dont. But the ending makes this kinda unimportant seeing as its up to the individual werewolf wether he wants to be cured or not. The effects are Stan Winston so they're hot but nothing special, Im afraid there's just nothing new to do with vamps and werewolfs now, its all been done. This is very average really there's nothing outstanding and the cast is pretty mudane too.
Phil Hubbs
Super Reviewer
A low budget werewolf film with a good idea but poor execution. The werewolves look quite odd and the plot is far too simple and obvious. Gingersnaps or Dog Soldiers are much better!
Skinwalkers Quotes
There are no approved quotes yet for this movie.