Simone
(2002)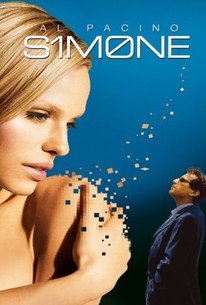 Movie Info
Is the time approaching when a persona in its entirety could be a mere fabrication of modern culture and technology? Or did Hollywood enter that time long ago? Either way Viktor Taransky (Al Pacino) finds himself growing more and more aware of the media-obsessed culture in which he tries to earn his living. Taransky is a film director struggling to survive in an industry that doesn't require or want his artistic vision. When first he meets a stranger whose vision is considered somewhat questionable, he doesn't realize the potential of the idea to digitally incorporate a character into his otherwise unsalvageable film. However, in time, not only the director and the entire studio, but American pop culture at large will grow to embrace Simone. As Taransky earns popularity and acclaim via the success of the digitally constructed actress he "discovered," he struggles to define his own identity as an artist and a person, and finds that lying to cover up Simone's non-existence is altering his life entirely. His ex-wife and former employer Elaine (Catherine Keener) notices the difference in his personality, upsetting their daughter Lainey (Evan Rachel Wood) and her hopes of their reconciliation. Meanwhile, stray paparazzi turned private investigators threaten to make public incriminating evidence, which could destroy the limelight Taransky enjoys while "hiding" Simone. Amazingly, what Simone doesn't say or do creates all the more buzz, and causes Taransky to face the reality of his industry. Written and directed by Andrew Niccol (Gattaca), Simone takes a satirical approach to an otherwise fantastical comedy. ~ Sarah Sloboda, Rovi
News & Interviews for Simone
Critic Reviews for Simone
Audience Reviews for Simone
Its all Al Pacino's show in this Twilight Zone cousin wherein a toymaker's creation seems to come to life. I wished they'd've gone a few more steps than they only suggested (for instance, giving Simulation One some recognizable traits from some actresses to complete the illusion instead of the vacuous automaton we get), but Al still gives us a fun enough ride for the money.
Kevin M. Williams
Super Reviewer
Unusual for Al Pacino tot take on such a role of a slightly Comedic fashion, in a film that wasn't really really great. I like the concept of the film and it's obviously not an out of reach techology to perform, but I guess it sums up a lot metaphorically about celebrity and their followers too.
Lady D'arbanville
Super Reviewer
Pacino, film making & computer geekiness. LOOOL at the 5 inch floppy disk used! Havent seen this one in a long time
Simone Quotes
There are no approved quotes yet for this movie.