Silver City
(2004)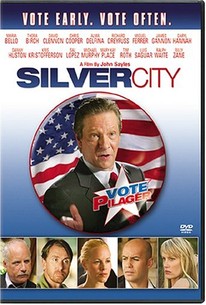 Movie Info
Celebrated writer and director John Sayles turns his eye to politics in America in this drama. The son of respected Colorado politician Senator Jud Pilager (Michael Murphy), Dicky Pilager (Chris Cooper) is a charming but half-bright man with a bad habit of mangling the English language and a decided lack of political correctness. Dicky is also in the midst of a hard-fought campaign to become governor of Colorado. Dicky's campaign manager, Chuck Raven (Richard Dreyfuss), is a ruthless sort who will leave no stone unturned to see that his candidate wins, so when Dicky snags a dead body while fishing during the shooting of a campaign commercial, Raven is determined to find out if his man has been set up. Raven hires Danny O'Brien (Danny Huston), a former journalist turned private investigator, to find out who the dead man is and if he might be connected to Pilager's enemies. But the deeper O'Brien digs into the matter, the more he finds out about the candidate and his family -- and very little of it is flattering. John Sayles assembled a typically impressive cast for Silver City, with the supporting cast highlighted by Tim Roth, Kris Kristofferson, Maria Bello, Thora Birch, Daryl Hannah, Billy Zane, and Mary Kay Place.
News & Interviews for Silver City
Critic Reviews for Silver City
Audience Reviews for Silver City
½
There's no doubt that John Sayles has made better films than "Silver City", but that doesn't mean that his film is inferior. No, it has a great deal to offer, such as a top-notch cast, clever writing, and spot-on editing. The film's pacing and inconsistent camerawork may try the patience of some, but there is an engaging story here.
Stephen Earnest
Super Reviewer
½
Nice satire and goofy imitation of W moving up in politics.
Byron Brubaker
Super Reviewer
½
When watching this film and you see the great Chris Cooper playing a dim-witted politician, you won't be able to help relating it to real life. But this movie goes beyond satirising our incompetent President, it goes beyond just dark humor...it's making a social statement on different levels. The environmental issue is brought up; as well as ethics and corrupt campaign processes, feelings toward undocumented individuals as well as family dysfuntion issues. The great ensemble cast helps bring many different opinions into perspective through different characters who go through different things and are all at different stages of their respective emotional and spiritual breakdowns. At first view, the movie might seem pointless and contrived, but give it a second chance or at least let it sink in for a day or two before you decide that it sucked for you! Daryl Hannah delivers a very understated, yet very fuc&ed-up performance! That's a good thing for her!
Rico Zamora
Super Reviewer
Silver City Quotes
There are no approved quotes yet for this movie.