Silent Light (Stellet licht)
(2007)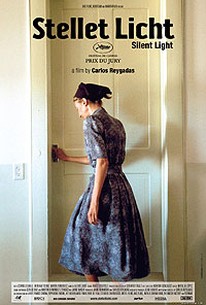 TOMATOMETER
AUDIENCE SCORE
Critic Consensus: Silent Light demands patience -- and rewards willing viewers with a compassionate and beautifully filmed look at the human condition.
Silent Light (Stellet licht) Photos
Movie Info
A man of faith succumbs to a temptation he cannot resist in this drama written and directed by Carlos Reygadas. Johan (Cornelio Wall Fehr) and Esther (Miriam Toews) have been married for years, and live with their children in a Mennonite community Mexico. While Johan and Esther are both taciturn by nature, a moral dilemma is tearing Johan apart -- he's been having an affair with another woman in their circle, Marianne (Maria Pankratz), and feels he may be falling in love with her. While the tenants of his faith strictly forbid adultery, his need to be with Marianne seems stronger than the dictates of his moral compass, and while he's confessed his sins to Esther and his close friend Zacarias (Jacobo Klassen), subjecting himself to the shame of truth hasn't buffered his desires. Even worse, after Johan confesses to his father about his lust for Marianne, he's told that he may have fallen under the sway of Satan. Luz Silenciosa (aka Silent Light) received its world premiere at the 2007 Cannes Film Festival.
Critic Reviews for Silent Light (Stellet licht)
Audience Reviews for Silent Light (Stellet licht)
Beautifully filmed, with no music score to distract the viewer, this is a lush film that unfortunately takes more than two hours to tell a simple tale that would have been better served with a much tighter edit. There is little to distract, but also very little to engage the viewer as scenes stretch on interminably with very little dialog. As a glimpse into life in a Mennonite community in northern Mexico, this leaves a lot to be desired, as there is little insight into the beliefs and practices of the people. All we really know comes from observation. The families tend to be large. All members of the family are expected to contribute. The religious observances are quite austere and more conducive to inner reflection than to building community. And this community is not immune to infidelity. A most unsatisfying experience for this viewer.
Mark Abell
Super Reviewer
This film is nothing short of a masterpiece. Be forewarned, however, that this movie (like most "masterpieces") isn't for everybody. That being said, I think this movie is brilliant food for thought; it's film for thought, actually. I love when a film, such as this one, has something to say--but DOESN'T say it. It is so full of subtext and symbolism that (like a good book) it requires the viewer to delegate what matters and how it matters. Every one takes something unique from this film. The story of a modest Mennonite man living in rural Mexico with his wife and children-- in doubt over his behavior and the way said behavior affects his faith is simple enough. And, on the surface, there doesn't seem to be much going on in the film. Suddenly (or, at last) a secret is revealed and this secret is what the whole foundation of this film (and this man's existence) lies upon. Reductive film-goers will argue that this movie could be an hour shorter and more fast-paced. I tend to disagree, mostly because that kind of person (of whom I know one or two) is the kind that will deem a movie to be "bad" simply based on its length. If you are a patient viewer who enjoys to be immersed in a cinematic landscape that is alien to your own, then this movie is definitely for you. Granted, the film IS "slow" as molasses in parts--but it never meanders into pointlessness or self-indulgence by the director. The shots are composed the way they are for a reason and for complete effect. Previous efforts by director Carlos Reygadas include Japon and Battle in Heaven. So, there's a fair share of provocative controversy that comes attached to each of his projects--and Silent Light is no different. You'll find this film to be, at least, an interesting exercise in cinematography and symbolic composition. From its paradoxical title (Silent Light) to its surrealistic resurrection scene, this movie will leave you mesmerized--and highly rewarded if you've afforded it the chance to move you.
Rico Zamora
Super Reviewer
The film begins with an incredible shot of a sunrise. Slowly everything comes into focus and as the light shines on the camera begins to move closer in. It's a very slow but also very beautiful beginning. The same can be said for the entire film. Slow scenes and long shots of incredible beauty that unfortunately doesn't take advantage of the medium. These are more like still paintings and as such the running time is a chore. 2 hours or just 90 minutes would have made this is a fantastic film overall. The acting is also not realistic, coming off as forced. The internal struggle of each character is well worked, and some excellent quiet moments take center stage. A couple stripping and then just embracing each other for a while. A man crying at an empty table holding a spoon. It's a few artistically wonderful moments in a brave and calm film.
Luke Baldock
Super Reviewer
Silent Light (Stellet licht) Quotes
There are no approved quotes yet for this movie.