A Shriek in the Night
(1933)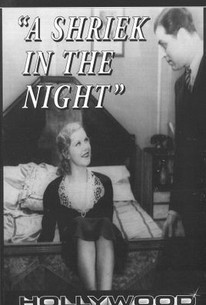 AUDIENCE SCORE
Critic Consensus: No consensus yet.
A Shriek in the Night Photos
Movie Info
The second of two low-budget murder melodramas starring Ginger Rogers and Lyle Talbot, A Shriek in the Night is not quite as good as the first (The Thirteenth Guest), but it far outclasses most other poverty-row thrillers of its period. The titular nocturnal shriek is heard just before a wealthy philanthropist falls from his penthouse balcony to his death. Virtually everybody in the apartment building comes under suspicion when it is determined that this "accidental" death was no accident. Rival reporters Pat Morgan (Rogers) and Ted Rand (Talbot) spend most of the picture snooping around where they don't belong, the better to outscoop one another. Meanwhile, the already baffled police become more flummoxed when three additional murders occur -- each preceded by a cryptic letter sent to the victim, stating "You Will Get It!" The method of execution turns out to be asphyxiation, but how is this being done? And better yet, why is this being done, and by whom? The solution was unfortunately tipped off in the film's lobby posters, which showed the unconscious heroine being carried off by the actor who turns out to be the killer. Even so, A Shriek in the Night remains an entertaining whodunit, with a pre-Fred Astaire Ginger Rogers doing a great job exhibiting stark, screaming terror.
Critic Reviews for A Shriek in the Night
There are no critic reviews yet for A Shriek in the Night. Keep checking Rotten Tomatoes for updates!
Audience Reviews for A Shriek in the Night
½
Two reporters continue to investigate a series of murders committed in an apartment building after the police have declared the case closed. Intricate yet uninvolving mystery, for diehard Ginger Rogers fans only.
½
This was a silly melodramatic mystery film, which I didn't find a good copy of, unfortunately. I thought it was an interesting cast, and there was some comedy in it, but overall not so good.
Programmer junk was one of 10! films Ginger Rogers made in 1933. Strictly bottom of the bill fodder this has a fast pace but zero production values and has to be the film where Ginger looks her absolute worst of screen. Badly photographed she appears chunky with awful hair and slapped on makeup. Putting that aside the story is obvious and the killer easy to spot. Besides Ginger it does provide an early glimpse of the terrific Louise Beavers but this is for completist only.
A Shriek in the Night Quotes
There are no approved quotes yet for this movie.