Show Me
(2005)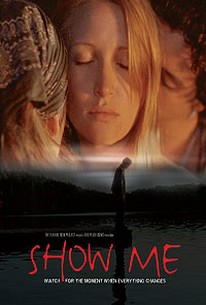 Movie Info
The twentysomething urbanite Sarah (Michelle Nolden, Martha, Inc.) finds her life threatened when a teenage couple, Jackson (Kett Turton, Walking Tall) and Jenna (Katharine Isabelle, Ginger Snaps), kidnap her and drag her off to an isolated, forest-bound cabin in Show Me. Thus begins a series of intense head games between the captors and the terrified woman, who -- sensing that these kids may be in over their heads -- believes she just might be able to outsmart them. Cassandra Nicolaou directs this thriller from her own original script, an extended cat-and-mouse suspenser designed to keep viewers on the edge of their seats.
Critic Reviews for Show Me
Audience Reviews for Show Me
½
Put the kettle on and let it simmer. That's how this felt to this viewer. Sarah (Michelle Nolden) is trying to get away for an anniversary weekend with her high powered executive lover who gets stuck at the office at the last minute. Stuck in traffic, Sarah falls victim to a "wrong place at the wrong time" scenario and winds up abducted at knife point by a pair of street kids. Jenna (Katharine Isabelle) and Jackson (Kett Turton) are hustlers that seem to be making this up as they go along, and we are never sure who is in charge. The rest of the film concerns Sarah's efforts to stay alive and find a way out for all three of them. Several twists and turns, dirty little secrets, and the unpredictable nature of the situation keep the tension building. Never knowing when things might just explode was enough to keep this viewer mesmerized. Sarah proves more resilient than would first appear and the two younger actors brought just the right measure of insecurity, indecision, and apathy towards Sarah to their parts. You might not scream in terror, but you will certainly feel a knot in the pit of your stomach until the end.
Mark Abell
Super Reviewer
I saw this as part of a double bill for the London Gay and Lesbian Alliance, which may well be a ma-hoosive spoiler for everyone else. But I was aware of it, so there. Essentially a very indie psycho-sexual thriller, Show Me benefits from the naturalistic performances by the three principal actors, their positions varying wildly as the roles of torturer and captive alter nearly by the scene. Another aspect of this type of filmmaking is that the claustrophobia of the situation makes for an uncomfortably sexual underpinning to the events, some scenes almost palpably erotic. An issue must be raised to the sympathy bestowed upon the captors, as there is a heavy reliance on our ability to empathise with their situation, when in actuality they're both pretty dense. Perhaps my biggest issue with this is that (with several recent thrillers), the plot owes itself almost wholesale to Polanski's Knife In The Water. And though Show Me is good, it ain't THAT good.
Antony Stubbs
Super Reviewer
Show Me Quotes
There are no approved quotes yet for this movie.