Shot Caller
(2017)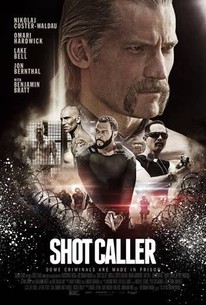 TOMATOMETER
AUDIENCE SCORE
Critic Consensus: Shot Caller's weakness for action movie clichés is capably offset by strong work from Nikolaj Coster-Waldau in the central role.
Movie Info
SHOT CALLER follows the harrowing, often heart-rending journey of successful businessman Jacob Harlon (Nikolaj Coster-Waldau) who is transformed into Money, a stoic, ruthless prison gangster after a DUI sends him down the rabbit hole of the American prison system. As he navigates the brutality of his new home, adapting to its violent codes of ethics and rites of passage that will ensure his survival, he slowly loses his previous identity and his relationship to his former life, including his wife and son. The grip of his new family, the prison gang, extends beyond the prison walls. Upon his release, chased by the law enforcement, threatened by his incarcerated "protectors," Money must orchestrate one last dangerous crime. All is not what it seems. The ruthless process of fulfilling his obligations also becomes his path to sacrifice, retribution and self-definition.
News & Interviews for Shot Caller
Critic Reviews for Shot Caller
Audience Reviews for Shot Caller
½
The most renowned prison movies are about escape (The Shawshank Redemption), a man's final hours in death row (The Green Mile), and racist extremists (American History X). Shot Caller is more in line with HBO's 2016 miniseries The Night Of; the institutionalization of the common man. Nikolaj-Coster Waldau, also known as Ser Jaime Lannister from Game of Thrones, plays Jacob Harlon. Convicted of involuntary manslaughter, he's thrown behind the bars of a prison filled with gangs, violence, and corruption. Or, in simpler terms, your outsider's view of what a modern day prison entails. He immediately understands that behind bars, it's kill or be killed, and he chooses the former. Waldau proves himself as an actor in this role which is both physically and mentally transformative. He goes from being skinny and neat businessman Jacob to a muscular and scruffy criminal named Money. The film weaves back and forth between the beginning of the manslaughter charge and the repercussions of what he endured in prison after his release a decade later. Normally, I'm not a big fan of non-chronological stories, but it works in Shot Caller's favor. Seeing the beginning and end of his transformation side-by-side makes it all the more powerful. Like The Night Of, Shot Caller is a great commentary on the current state of America's justice system. Weak security makes it all too easy for prisoners to conspire with others, made only worse by the guards taking bribes to turn the other way. Albeit, you've probably already seen an interpretation on what it's like inside a modern prison, so you won't be blown out of the water here; it's just done very well. While two detectives are investigating Money and his gang post-imprisonment, one asks the other what would compel Money to leave behind his family in favor of a life of crime, and he's answered with "Once a dude gets institutionalized, anything is possible". There's a lot of depth to that line; prison can turn a morally straight man into an unpredictable and erratic criminal. We're ultimately left with a thrilling and powerful finale thanks mostly in part to Waldau's excellent performance.
Kevin Mozulay
Super Reviewer
½
Something you will have seen before, but still utterly gripping.
Shot Caller Quotes
There are no approved quotes yet for this movie.