The Gruffalo
(2009)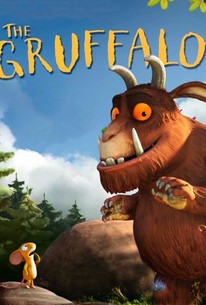 AUDIENCE SCORE
Critic Consensus: No consensus yet.
Movie Info
Helena Bonham Carter narrates this delightful animated adaptation of the popular children's book from author Julia Donaldson and illustrator Alex Scheffler. When a tiny mouse is cornered by three hungry critters, he weaves a colorful tale of an imaginary monster that scares his attackers away. Later, the mouse gets a big surprise upon discovering that his frightening creation really exists. Featuring the voices of John hurt, Rob Brydon, Tom Wilkinson, and Robbie Coltrane.
Critic Reviews for The Gruffalo
All Critics (2) | Fresh (2) | Rotten (0)
Lovely animation. I particularly liked the casual mischief with the ants. Excellent.
A charming computer animated tale about a little mouse who travels through the woods, rendered beautifully and in rhyme.
Audience Reviews for The Gruffalo
"...doesn't he know? There's no such thing as a Gruffalo!" I've been watching the Oscar nominated films during the last week or so. All the "big" movies are already seen and then I thought for myself: "Why not watch the "smaller ones" too?" I remember 'The Gruffalo" from the live Oscar ceremony and I liked the few seconds I saw. Now, after seeing it, I was ever sooo pleased. Then I had to search some info from the most reliable interweb site called Wikipedia... 'The Gruffalo' tells the story of a squirrel telling the story of a mouse that tells the story of a Gruffalo beast. So, what we got here is something of a 'Inception' like storytelling. The only difference here is that the mouse is a better actor than Leonardo DiCaprio. Ok, I have no idea of what I just wrote. But the point is that the story, that is based on an award winning children's book, is well written, has some very good visuals that differ from the mainstream and a good voice cast. If you're fed up with the polished Pixar and Dreamworks animations, check the hell out 'The Gruffalo'. Hope to see some good stuff later on by the two rookie directors Max Lang and Jakob Schuh. Recommended!
½
A great childeren story remake
Michael Edwards
Super Reviewer
Disney of course enlists the biggest named stars for their entry in the Oscar nominated animated shorts. This is the longest of the entries. Helena Bonham Carter is a mother squirrel telling the story of The Gruffalo, based on the children's book by Julia Donaldson, to her two young squirrels. The CG animation had some surprises every so often. The number of references to the circle of life with bigger animals eating littler animals was unexpected. However the ending and the repetitive nature of the story/dialog for very young children left something to be desired from the adult perspective.
Byron Brubaker
Super Reviewer
The Gruffalo Quotes
There are no approved quotes yet for this movie.