Shootdown
(1988)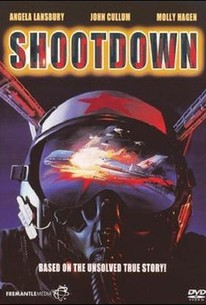 AUDIENCE SCORE
Critic Consensus: No consensus yet.
Movie Info
Shootdown, based on a controversial book by R. W. Johnson, examines the aftereffects of a politically sensitive air disaster. Angela Lansbury portrays the real-life Nan Moore, a US government employee whose son (Kyle Secor) is among the 269 people killed when Korean airliner KAL 007 is shot down by the Russians on September 1, 1983. The official story is that the plane accidentally invaded Russian airspace, then was mistaken for a spy plane when the crew did not identify itself. Ms. Moore doesn't swallow this, but in seeking the truth she runs up against a stone wall of bureaucracy. This film adheres to Ms. Moore's theory that KAL 007 was engaged in an actual spy mission, a theory dramatized in a "reconstruction" assembled by investigator John Cullum. Reportedly, the original telecast date of Shootdown was delayed because of its criticism of the Reagan administration; the real Nan Moore insisted that the film's production was slowed down because she didn't want to offend any members of her family. The intention of Shootdown was to put pressure on the US congress to inaugurate a hearing for the benefit of Ms. Moore. In 1989, a second TV movie based on the KAL 007 tragedy was released: Tailspin, which tells the story from the point of view of the government investigators. Since the original telecast of both films, new evidence has surfaced indicating that Flight 007 was not on an espionage mission, and that the Russian fighter pilots had acted on the orders of their over-zealous superiors.
Critic Reviews for Shootdown
There are no critic reviews yet for Shootdown. Keep checking Rotten Tomatoes for updates!
Audience Reviews
There are no featured reviews for Shootdown at this time.
Shootdown Quotes
There are no approved quotes yet for this movie.