Shoot on Sight
(2007)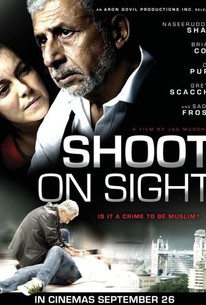 Movie Info
A man is torn between his faith, his family, and his profession in this taut thriller. Tariq Ali (Naseeruddin Shah) was born in Pakistan and raised in a Muslim household by parents who later emigrated to London, but he's been willing to set a certain amount of his cultural identity aside in order to advance his career in law enforcement. Tariq is married to Susan (Greta Scacchi), who is both British and Christian, and they're raising two children, Zara (India Wadsworth) and Imran (Arrun Harker). Tariq's intelligence and professionalism have helped him become a top detective at Scotland Yard, but when a suspected Muslim terrorist is shot and killed by police, Tariq is assigned to investigate in hopes of defusing public anger over the incident. As Tariq looks into the victim's background as well as the actions of the police, the media uncovers evidence of Tariq's friendship with Junaid (Om Puri), an outspoken Islamic leader who is believed to be linked to several terrorist groups. Shoot on Sight also stars Brian Cox, Sadie Frost, and Laila Rouass.
Critic Reviews for Shoot on Sight
Audience Reviews for Shoot on Sight
½
"Shoot on Sight" starts with an unarmed Muslim, suspected of being a terrorist, shot and killed by police in the London Underground. Deputy Police Commissioner Daniel Tennant(Brian Cox) employs Commander Tariq Ali(Naseeruddin Shah) to not only be the public face of the inquiry, but also to head it which he readily accepts, feeling he is a step closer to a promotion. He in turn brings on board Ruby(Laila Rouass), a trusted colleague, as his assistant. It is a good thing Tariq is a policeman since he has to bail out his teenaged daughter Zara(India Wadsworth) from jail after a rave before promptly grounding her for a month. Things are not always so fractious at home as Tariq and his wife Susan(Greta Scacchi) welcome his cousin Zaheer(Mikaal Zulfikar) from abroad. "Shoot on Sight" is a frustrating movie that desperately wants to have its cake and eat it too in its depiction of a Muslim community under siege in London after 7/7. The movie depicts that community as just wanting to live in peace as fanatics preach violence to a small minority. Of course, nothing good ever came from violence. All of which is good and decent but none of this, despite a good cast, is very involving. In fact, it is heavily contrived and sometimes even lacking in basic logic. Take the opening sequence for example. No matter how high the terror alert may be, would police really go in guns blazing on just an anonymous tip when there are probably so many? Plus, there is no ambiguity to the scene and therefore to the rest of the movie.
½
A film that looks and feels like a TV movie. It has a message, but it's a message that is painfully obvious to anybody with the slightest bit of intelligence. It's also handled in a very patronizing and contrived way. The performances range from very bad - Brian Cox (i.e. Excellent). The film does make mention of more interesting political and social elements, but goes for the easiest story to tell. Just in case you were wondering, most Muslims are not terrorists, but some extremists are.
Luke Baldock
Super Reviewer
½
An interesting take on the London bombings and the Metro Police's investigations, we meet a Commander of Pakistani descent who is placed in charge to investigate the death of a young muslim at the hands of police for suspicion of terrorrism. At home, his nephew has just recently arrived from Pakistan to study engineering... but he has other plans. We explore the culture and tension of Muslims in England, how some live through the constant pressures of life as Muslims as the pressures of the world surround them. Its easy to see how many young men are seduced into wrongly believing Islam is at war with the world by extermists, but it is good to know there are some who defy the extremes and represent the best of human nature and character. whether they are muslim or not. The reason why I watched this is because I am fan of old school Bollywood, and Naseruddin Shah, Om Puri and Gulshan Grover are old school stars who most Indians and Arabs should know, each having made their mark in Britian and Hollywood, Shah you probably know as Captain Nemo from the family favourite, The League of Extraordinary Gentlemen, and Om Puri from the Patrick Swayze classic, City of Joy. Anyways, its a modern tale of terrorism and family and divided loyalties, the tension and divisions are all too apparent... who really is responsible for this large division of peoples??? We only really have to blame ourselves, and everyone must share this responsibilty of bias and prejudice against each other, or there will never be real peace, and there will always be extreme figures on both sides who will lead us astray on the path to destruction. I enjoyed this movie, nothing too special but well worth watching.
Shoot on Sight Quotes
There are no approved quotes yet for this movie.