Shocker
(1989)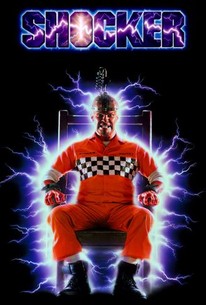 Movie Info
In this horror film, the killer Horace Pinker (Mitch Pileggi) is finally captured and executed, only to be transformed into a vengeful spirit who possesses the bodies of innocent people and uses them to carry out his bloody deeds.
News & Interviews for Shocker
Critic Reviews for Shocker
Audience Reviews for Shocker
Horace Pinker (Mitch Pileggi) was meant to be the next evolution in Wes Craven's horror odyssey. A bald serial killer who worships at the throne of channel-surfing, Pileggi hops right on board the gargantuan overacting inherent in the role. In a sidenote, it's an amusing nuance that Pileggi had to mimic the limp of a prepubescent girl who was possessed by Pinker later in the film because she filmed her scene before he arrived on set. However, Shocker nosedived at the box office and Craven couldn't capitalize on another Freddy Krueger. For what it's worth, Shocker is a rollicking, albeit cynically synthesized horror-comedy. The boob-tube hypnosis and desensitization to cathode-ray-tube violence would've been a viable outlet for satire but Craven presumably abstains from social commentary for once. Craven plunders wholesale from his Nightmare on Elm Street template. The opening is precisely identical to his aforementioned franchise with a repair shop instead of a boiler room. The lines between reality and REM sleep are blurred. Pinker spews sound bytes that could've been pun-intended catchphrases ("Take a ride in my Volts-wagen"). Moreso than his other films, rationalization and logic hold no sway over the far-fetched writing in Shocker. Jonathan Parker (a vanilla Peter Berg) is a foster child who practically lives in an expensive suburban house all by himself like a Nickelodeon sitcom. A necklace imbued with the omnipotent power of "love" is the only object that can defeat the electrified Pinker. It might seem that I'm deriding this film but actually I wholeheartedly recommend it. The flickering, low-res pixel version of Pinker was quite innovative for the time. The showstopper is a gonzo sequence where Pinker and Jonathan hopscotch through different programs from a Leave it to Beaver to a John Tesh newscast to a televangelist set. Obviously, Shocker should be evaluated with a macabre sense of humor. The Dudes of Wrath and Alice Cooper soundtrack guarantees the film is a heavy-metal guilty pleasure for headbangers and any opportunity to hear a tongue-wagging Michael Murphy shriek "eat shit and die you little fucker" is a succulent treat. If nothing else, it is superior to both The First Power and The Horror Show which overlapped the same premise.
Cory Taylor
Super Reviewer
Wes Craven uses the Nightmare On Elm Street formula, and obtains average results. Shocker is not the best horror film, but it's definitely not the worst either. This film does have some high points. Mitch Pileggi gives a very good performance as Horace Pinker, and he's very amusing to watch on screen. Shocker is a film that shouldn't be taken too seriously, as the mode on screen feels quite silly at times, but it's what makes it fun in the first place. Not Wes Craven's best film, but definitely not his worst, Shocker is a very good film to watch if you want to waste a good two hours. Just don't go expecting excellent. An underrated film for sure, Shocker does have a lot to offer the viewer and despite all it's flaws, it's simply a silly horror film with ideas left over from the Nightmare On Elm Street franchise. Another thing that makes this film good is the rocking heavy metal soundtrack, Shocker the film may be average but the soundtrack is great.
"Shocker" takes a lot of heat for the similarities it shares with another Wes Craven film, a true horror classic, "A Nightmare On Elm Street." While "Shocker" is not a horror classic, it doesn't deserve the backlash it has received. In actuality, "Shocker" is one of the better horror flicks of the late 80s and early 90s. Starring Mitch Pileggi as Horace Pinker and Peter Berg as Jonathan Parker, "Shocker" is a solid slasher story with plenty of gore. Pinker is a mass murder who murders high school athlete Jonathan Parker's family, and then Parker's girlfriend. After being brought to justice, Pinker is sentenced to death by electrocution, but that is only the beginning. Pinker studied black magic, and he turns himself into electricity during his date with the chair. He is able to transfer his soul into other bodies, effectively moving around the city, adding to his impressive body count. No one is safe, and Parker cannot trust anyone except for some gridiron teammates. Parker searches for Pinker to kill him once and for all, which leads to an awesome battle that takes the two through every television channel on the dial. The film is as gory as any of the "Nightmare" films and is much better than the "Friday the 13th" series. "Shocker" was supposed to be the first in a series of films, a series that was supposed to become the next great horror franchise, but the concept apparently felt flat before Craven's vision could be realized. Nonetheless, "Shocker" was a very good horror film. It delivered a ton of thrills and spilled a lot of blood. I seriously recommend this film for every horror fan
Cassandra Maples
Super Reviewer
Shocker Quotes
There are no approved quotes yet for this movie.