Shinjuku Triad Society (Shinjuku kuroshakai: Chaina mafia sensô)
(1995)
AUDIENCE SCORE
Critic Consensus: No consensus yet.
Movie Info
Takashi Miike's Shinjuku Triad Society is the first of a three-film series known as the Black Society Trilogy. Corrupt cop Tatsuhito disregards any and all regulations in his attempt to bring down Wang, an inhumanely cruel criminal who lords over an empire that makes its fortune from the debasing of human beings. The cast includes Kippei Shiina, Tomorowo Taguchi, Takeshi Caesar, and Shinsuke Izutu. ~ Perry Seibert, Rovi
Critic Reviews for Shinjuku Triad Society (Shinjuku kuroshakai: Chaina mafia sensô)
All Critics (3) | Fresh (1) | Rotten (2) | DVD (3)
More sober and deliberately paced film than the wild action thrillers that made Miike's reputation, this dark underworld thriller is also less chaotic and explosive, but it has its share of Miike madness...
Typically unpleasant and confusing effort from Takashi Miike...
if cop/robber/vengeance themes are your bag, you can get a more intriguing rendition in Dead or Alive
July 29, 2004 | Rating: 2/5
Audience Reviews for Shinjuku Triad Society (Shinjuku kuroshakai: Chaina mafia sensô)
½
I'm surprised it's taken me so long to see this excellent film, and I certainly won't take my time with the next 2 in the trilogy. Miike does a great job combining his offbeat and gritty filmmaking style into a yakuza/triad/cop drama. Certainly there are many moments of Miike madness, but it's an excellent crime film as well. Highly recommended, especially to Miike fans.
Christopher Brown
Super Reviewer
½
Shinjuku Triad Society is an earlier film from Takashi Miike and it is easy to see that he holds nothing back as usual.
The plot does have its moments. At first it seems like a cop trying to take down gangsters, but once things pan out it is more of a cop trying to keep his younger brother from falling in with the wrong crowd story. The first 5-10 minutes is pretty difficult to grasp. The atmosphere is being setup and there are introductions for some characters. It is the quick editing that makes it a bit much too handle. Of course, this isn't really all that surprising with Miike in the driver's seat. Fortunately, the film settles down and becomes more watchable.
The violence is pretty bloody, especially near the ending and the gay prostitution is all over this film. I mean, how many dick suckings is needed in this picture? The fact that the cops rape their suspects to get them to talk is also worth noting.
Kippei Shiina is quite impressive as the semi-corrupted cop and Tomorowo Taguchi is fitting as a gay Yakuza boss. The supporting cast is also decent enough to not destroy this movie.
At the end of the day, Shinjuku Triad Society is another Yakuza thriller with the Takashi Miike signature. Definitely not his best work, but a decent and interesting watch nonetheless.
Miike has never been a director to stick to one style of shooting during a film, and here he experiments with different lenses and camerawork to create interesting angles. The shock level is high too. There's gore and sexual violence, some of which is necessary to the plot, some less so. But it's never boring... While it is not as accomplished as are many of the director's later films, the movie is a dark depiction of the brutal, harsh lives of gangsters. It is an effective, interesting work and points in the directions toward which miike would later head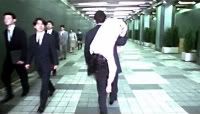 El Hombre Invisible
Super Reviewer
Shinjuku Triad Society (Shinjuku kuroshakai: Chaina mafia sensô) Quotes
There are no approved quotes yet for this movie.